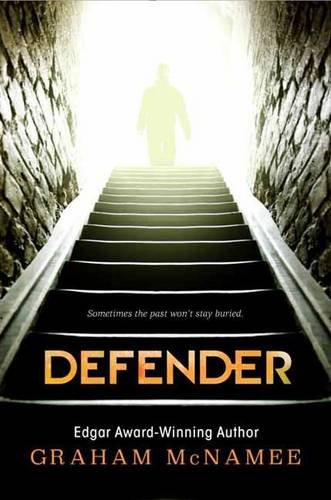 Publisher's Note:
From the Edgar Award­–winning author of Acceleration comes a mystery about an old murder and new truths, perfect for fans of Barry Lyga, Madeleine Roux, and Michelle Gagnon.

They call her Tiny, but Tyne Greer is six foot six, a high school basketball star who is hoping the game will be her ticket out of the slum. She lives in a run-down building called The Zoo, where her father is the superintendent. One day she discovers a crack in the wall of an abandoned basement room. And sealed up in the wall is a girl's body. Horrified, she runs to get her dad. But after he goes to take a look, he comes back and tells Tyne that nothing's there. No girl. No body. He tells her she must be seeing things in the dark.

Tyne is sure it was real, though, and when she finds evidence that the body was moved from the hole in the wall, she knows the only one who could have done it is her father. But why? What is he hiding?

Tyne's search for answers uncovers a conspiracy of secrets and lies in her family. The closer she gets to the truth, the more dangerous it becomes for her. Because some will do anything to bury the past . . . and keep her silent.
This book was sent to Compass Book Ratings for review by Wendy Lamb Books (A Random House Children's Imprint)
Defender
by Graham McNamee
Overall Review:
Defender by Graham McNamee is a young adult mystery with much to recommend it. This novel is written so the reader knows what the characters know, allowing the reader to unravel things, too, without surprise information being withheld from the reader. Set in a gritty, rough neighborhood and populated with non-standard characters, it has a feel of authenticity. Tyne and her boyfriend, Stick, aren't cookie cutter and their world isn't Happy Valley, and that is one of the refreshing aspects of this book.
Defender is a good book for young adults who can grapple with the gray areas of right and wrong, justice, motivations, and ethical choices. It definitely reads as a believable scenario and gives the reader something to think about long after the last page is read.
Review of an electronic Advance Reader's Copy
Content Analysis:
Profanity/Language: 5 religious exclamations; 18 mild obscenities; 2 derogatory names; 1 scatological word; 2 anatomical terms.
Violence/Gore: Description of a butchered, mummified boy with some graphic details; characters find and examine a finger; characters shows scar received from stepdad; report a father beat his kid and wife; characters theorize on how/why murder was committed; character has graphic dream with descriptions of copious amounts of blood; report character had evidence of abuse (marks, bruises); report of death by natural causes; character kidnapped at gunpoint; threat(s) character found bloody and beat into unconsciousness with severe injuries; extended description of circumstances of character's death, some graphic details and mention of blood; extended fight scene where character beats another to point of unconsciousness; report of death in car accident; ashes from a body unknowingly used (somewhat gruesome, disturbing concept).
Sex/Nudity: Reference to "boobs"; said someone looks like he "tased his testicles"; sexual innuendo; character places arm around another's waist; rub small of back; character says that another's massages tend to wander higher than the knee; hand placed on knee; reference to "squeeze to please"; characters kiss upon different occasions; sexual references to prostitution, mating season, love nest, short skirts = big tips, condoms, jest about "naughty nurse and sponge bath"; couple seen kissing; teenagers characters kiss repeatedly with implication of sex following; general report of older man targeting underage girls for sexual reasons; characters embrace.
Mature Subject Matter:
Death, lying, economic disparity/poverty, foster children/families, drugs/drug-dealing, physical abuse (spouse and child).
Alcohol / Drug Use:
Report someone was drunk; junkie debris seen in alley; a place was famous for wee; prescribed pills are taken appropriately for an injury; mother said as a teenager she had a job making drug deliveries; explanation of "mules" used in cocaine delivery.
Reviewed By Cindy