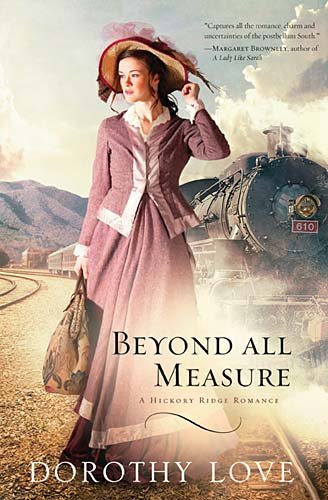 Publisher's Note:
Unless she can trust God's love to cast out her fears, Ada may lose the heart of a good man. Ada Wentworth, a young Bostonian, journeys to Hickory Ridge, Tennessee, in the years following the Civil War. Alone and nearly penniless following a broken engagement, Ada accepts a position as a lady's companion to the elderly Lillian Willis, a pillar of the community and aunt to the local lumber mill owner, Wyatt Caldwell. Ada intends to use her millinery skills to establish a hat shop and secure her future.

Haunted by unanswered questions from her life in Boston, Ada is most drawn to two townsfolks: Wyatt, a Texan with big plans of his own, and Sophie, a mulatto girl who resides at the Hickory Ridge orphanage. Ada's friendship with Sophia attracts the attention of a group of locals seeking to displace the residents of Two Creeks, a "colored" settlement on the edge of town. As tensions rise, Ada is threatened but refuses to abandon her plan to help the girl.

When Lillian dies, Ada is left without employment or a place to call home. And since Wyatt's primary purpose for staying in Hickory Ridge was to watch over his aunt, he can now pursue his dream of owning Longhorns in his home state of Texas. With their feelings for each other growing, Ada must decide whether she can trust God with her future and Wyatt with her heart.
This book was sent to Compass Book Ratings for review by Thomas Nelson
Beyond All Measure
by Dorothy Love
Overall Review:
In Beyond All Measure, author Dorothy Love welcomes readers to the "peaceful and close-knit town" of Hickory Ridge. Now that the Civil War has ended, townsfolk eagerly participate in pastimes like ladies' quilting circles, church pageants and holiday picnics. The novel's rich, vivid and detailed imagery will leave readers wanting to pack up and move to a small Southern town! Yet Hickory Ridge has its share of dark secrets. Tensions have escalated between the town's blacks and whites, all while the Ku Klux Klan terrify and carry out grisly deeds.

In the midst of the turmoil, Wyatt, the town's golden boy, finds himself falling for beautiful newcomer, Ada. Scenes involving Wyatt were some of the best -- he is the epitome of a true Southern gentleman. Ada's complicated actions and mysterious past made this book a page-turner. The couple's sweet, budding romance also helped lighten the story's heavier themes. Beyond All Measure was noticeably well-researched and I loved catching a glimpse of life and love in the postbellum South.
Content Analysis:
Beyond All Measure is Christian historical fiction, so it is fairly conservative. There is frequent discussion about God and His role in the characters' lives. There was no profanity. The word 'negro' is spoken by characters; it was commonly used during this time period.
Attacks conducted by the Ku Klux Klan are briefly stated and include
hanging, shooting and burning crosses in lawns. Moderate violence occurs when a main character is threatened, beaten by the Klansmen, and tied up. The character subsequently soils herself. There is mention of a Civil War battle but this is not graphically detailed. A character dies of old age.
Kissing occurs between the main characters. There is a slight reference to being unfaithful and having a child out of wedlock.
Mature Subject Matter:
Mature themes include the racial tension of postbellum Tennessee and the motives behind the Ku Klux Klan.
Alcohol / Drug Use:
***
Reviewed By Rachel