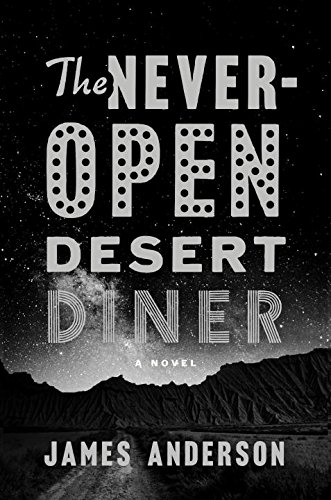 Publisher's Note:
A singularly compelling debut novel, about a desert where people go to escape their past, and a truck driver who finds himself at risk when he falls in love with a mysterious woman.

Ben Jones lives a quiet, hardscrabble life, working as a trucker on Route 117, a little-travelled road in a remote region of the Utah desert which serves as a haven for fugitives and others looking to hide from the world. For many of the desert's inhabitants, Ben's visits are their only contact with the outside world, and the only landmark worth noting is a once-famous roadside diner that hasn't opened in years.

Ben's routine is turned upside down when he stumbles across a beautiful woman named Claire playing a cello in an abandoned housing development. He can tell that she's fleeing something in her past—a dark secret that pushed her to the end of the earth—but despite his better judgment he is inexorably drawn to her.

As Ben and Claire fall in love, specters from her past begin to resurface, with serious and life-threatening consequences not only for them both, but for others who have made this desert their sanctuary. Dangerous men come looking for her, and as they turn Route 117 upside down in their search, the long-buried secrets of those who've laid claim to this desert come to light, bringing Ben and the other locals into deadly conflict with Claire's pursuers. Ultimately, the answers they all seek are connected to the desert's greatest mystery—what really happened all those years ago at the never-open desert diner?

In this unforgettable story of love and loss, Ben learns the enduring truth that some violent crimes renew themselves across generations. At turns funny, heartbreaking and thrilling, The Never-Open Desert Diner powerfully evokes an unforgettable setting and introduces readers to a cast of characters who will linger long after the last page.
This book was sent to Compass Book Ratings for review by Crown Publishers
The Never-Open Desert Diner
by James Anderson
Overall Review:
When I received the ARC of The Never-Open Desert Diner it had a different cover, but I liked it more than the finished hardback copy I am seeing now. I guess that is just another lesson for me to learn: never judge a book by its cover--because if I had, I never would have read this fantastic book!
A trucker, lots of sand and hot weather, and a cello. What do all of these things have in common? And what's more, why should you care? Let's add in a mysterious woman, a small restuarant that is hardly ever open, and pasts that haunt those they belong to. Sounding better? I think so. This book started out fast-paced and rarely ever slowed down. Sure, there were parts that were more enjoyable than others, but I was so engrossed in this book I didn't want it to end.
Ben Jones is the rough-hewn protagonist of The Never-Open Desert Diner. I liked how the author made him seem somewhat vulnerable at times, even though Ben is obviously an adult man who can fend for himself. There was some romance in this book, but not so much that it was overwhelming. The mystery heavily outweighed the romance, making it a book I think both men and women will enjoy. This is a book I would be recommending left and right in my previous job as a librarian!
Review of an Advance Reader's Copy
Content Analysis:
Profanity/Language: 7 religious exclamations; 18 mild obscenities; 2 derogatory names; 14 scatological words; 9 anatomical terms; 8 F-Word derivatives.
Violence/Gore: A miscarriage is mentioned to have occurred; a character is mentioned to be attacked by a butter knife-wielding assailant; a fight is reported to have broken out and a character gets throat cut, some blood is mentioned; a character is mentioned to have frozen to death; a character is found collapsed in the desert and dehydrated; two men get into a very physical fight some minor injuries and bruises; a character is reported to have died in a tragic accident; a shooting is reported with several casualties; a character is reported to have hung himself; a character is described to be found buried under debris and later passes away; a rape is referred to with some brief detail by the men who committed the crime.
Sex/Nudity: A woman is seen nude un a non-sexual way; a married character is mentioned to be cheating on their wife; a minor is mentioned to be pregnant and reports that it is her mother's boyfriend who is the father; condoms are mentioned to be delivered in bulk to a truck stop; a rape is referred to with some brief detail by the men who committed the crime; a sexual reference is made; a man and woman make love nude in one brief non-descriptive scene; a man and woman kiss.
Mature Subject Matter:
Public urination, murder, divorce, teenage pregnancy, child abandonment, personal crises, loss of a loved one, rape.
Alcohol / Drug Use:
Adults drink beer; adults smoke.
Reviewed By Lydia