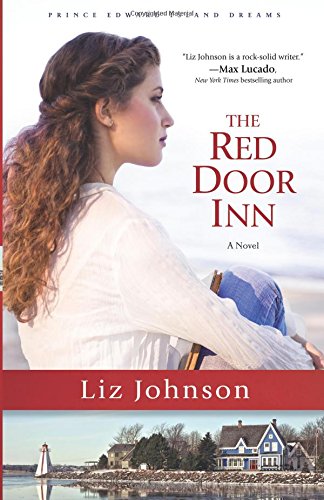 Publisher's Note:
Marie Carrington is running from a host of bad memories. Broke and desperate, she's hoping to find safety and sanctuary on Prince Edward Island, where she reluctantly agrees to help decorate a renovated bed-and-breakfast before it opens for prime tourist season.

Seth Sloane didn't move three thousand miles to work on his uncle's B&B so he could babysit a woman with a taste for expensive antiques and a bewildering habit of jumping every time he brushes past her. He came to help restore the old Victorian--and to forget about the fiancée who broke his heart.

The only thing Marie and Seth agree on is that getting the Red Door Inn ready to open in just three months will take everything they've got. Can these two wounded souls find hope, healing, and perhaps a bit of romance on this beautiful island?

Step into the Red Door Inn, a lovely home away from home tucked along the north shore of fabled Prince Edward Island. It's a place where the wounded come to heal, the broken find forgiveness, and the lonely find a family. Won't you stay for the season?
This book was sent to Compass Book Ratings for review by Revell
The Red Door Inn
by Liz Johnson
Overall Review:
The Red Door Inn by Liz Johnson is the first installment in the Prince Edward Island Dreams series. The story is very much a sentimental, emotional, and slower-paced read. It is set, as might be ascertained from the series title, on Prince Edward Island. That in and of itself is enough to attract fans of L.M. Montgomery and her beloved series.
The setting of the book provides a great opportunity for readers to imagine traveling to this picturesque island and enjoying the natural beauties. Readers who find they have to leave this locale too soon will be grateful to know Liz Johnson already has a second novel in the works which will continue the stories started here. This is a relaxing read that mimics the setting in which it is written.
The main characters in the book all have struggles of varying kinds, and the basic plot follows them as they confront these challenges. It is commendable that the author did not feel compelled to pull off a romance in two or three days and cure all of the world's ills in the same time period. Although the healing for the lead female, Marie, seems a bit rushed given her circumstances.
Perhaps the most glaring disappointment was the lack of recipes. Although there is no claim that the book would contain them, the mouthwatering delicacies described really should have been followed by recipes. Don't read this one on an empty stomach!
Content Analysis:
Profanity/Language: None
Violence/Gore: Character is prevented from striking another by being shoved away; person places arm on another's throat; character is punched in shoulder in a friendly manner.
Sex/Nudity: Female recalls a sexual assault, but her recollection is focused on the violence of her dress being torn and an arm being placed on her throat, the actual rape is not described, but implied; this incident is referenced several times, including the word rape; a scene in which characters almost kiss, but do not lasts two pages; non-married characters kiss and embrace.
Mature Subject Matter:
Death of parents and spouses, sexual assault, con-artists.
Alcohol / Drug Use:
Adult recalls adult characters consuming champagne at a party.
Reviewed By Susan