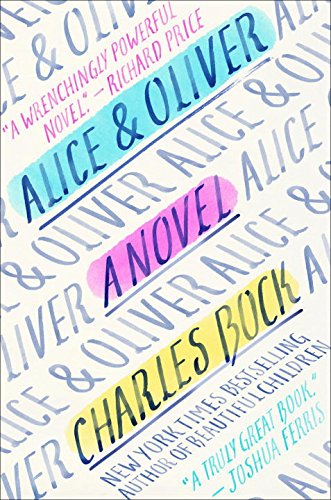 Publisher's Note:
Award-winning and New York Times bestselling author Charles Bock earned vast critical acclaim for his debut novel, Beautiful Children. Now, in Alice & Oliver, he has created an unflinching yet deeply humane portrait of a young family's journey through a medical crisis, laying bare a couple's love and fears as they fight for everything that's important to them.

New York, 1993. Alice Culvert is a caring wife, a doting new mother, a loyal friend, and a soulful artist—a fashion designer who wears a baby carrier and haute couture with equal aplomb. In their loft in Manhattan's gritty Meatpacking District, Alice and her husband, Oliver, are raising their infant daughter, Doe, delighting in the wonders of early parenthood.

Their life together feels so vital and full of promise, which makes Alice's sudden cancer diagnosis especially staggering. In the span of a single day, the couple's focus narrows to the basic question of her survival. Though they do their best to remain brave, each faces enormous pressure: Oliver tries to navigate a labyrinthine healthcare system and handle their mounting medical bills; Alice tries to be hopeful as her body turns against her. Bracing themselves for the unthinkable, they must confront the new realities of their marriage, their strengths as partners and flaws as people, how to nourish love against all odds, and what it means to truly care for another person.

Inspired by the author's life, Alice & Oliver is a deeply affecting novel written with stunning reserves of compassion, humor, and wisdom. Alice Culvert is an extraordinary character—a woman of incredible heart and spirit—who will remain in memory long after the final page.
This book was sent to Compass Book Ratings for review by Random House
Alice & Oliver: A Novel
by Charles Bock
Overall Review:
Alice & Oliver. What a simple title for such a complex and moving book. As a reader, you are introduced to Alice and Oliver Culvert, and from the very beginning they are portrayed as your typical loving couple, parenting their baby daughter. I had the feeling right away that this couple was supposed to be kind of a hippie-type. Their parenting style and approach to life made this kind of obvious.
I think many people will be able to read this book today and relate to it. A young couple faced with an uncertain diagnosis? Cancer? Hospital bills and insurance companies? These words are something some families hear and live with every day. Welcome to the lives of the Culverts.
Having either parent diagnosed with a deadly illness would be difficult. Having a young daughter who is still breastfeeding makes the fact that Alice is the one who is sick slightly worse. Suddenly Alice is taking precautionary measures, and then once she is being pumped full of chemicals, she is no longer able to feed her daughter naturally or even see her, for fear that an infection could compromise her immune system.
I liked how blunt this book was. I feel like it was an accurate depiction of what life is often like for a family going through the time leading up to, and after diagnosis and treatment. This book may hit a little too close to home for those who have experienced cancer first-hand, or it may be a comfort. It's hard to say. I can honestly attest that this book was a very heartbreaking and honest look at what many people face every day.
Review of an Advance Reader's Copy
Content Analysis:
Profanity/Language: 2 religious exclamations; 9 mild obscenities; 9 religious profanities; 1 derogatory name; 22 scatological words; 5 anatomical terms; 33 F-Word derivatives.
Violence/Gore: A sick woman coughs up blood; a brief scene of a woman giving birth is given; multiple brief scenes of medical procedures is given.
Sex/Nudity: A man makes a sexual comment about his wife; women taking their bras off in a bar is implied with no description; masturbation is mentioned; a bar is mentioned to be where strippers hang out; a man observes his nude, sick wife and thinks about what her body used to be like; a woman is mentioned to have sex with men for money; sexual diseases are mentioned; a man visits and almost hires a prostitute; a woman touches a man in a sexual way to try to seduce him; a husband and wife have sex briefly with no explicit detail; a wife touches her husband in a sexual way.
Mature Subject Matter:
Cancer, personal crises, living with a terminal illness.
Alcohol / Drug Use:
Getting high is mentioned; a needle is mentioned to be seen floating in water; drug use is implied; adults smoke; adults drink shots.
Reviewed By Lydia