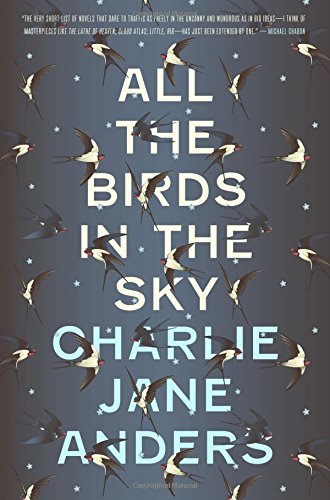 Publisher's Note:
From the editor-in-chief of io9.com, a stunning novel about the end of the world--and the beginning of our future
Childhood friends Patricia Delfine and Laurence Armstead didn't expect to see each other again, after parting ways under mysterious circumstances during middle school. After all, the development of magical powers and the invention of a two-second time machine could hardly fail to alarm one's peers and families.
But now they're both adults, living in the hipster mecca San Francisco, and the planet is falling apart around them. Laurence is an engineering genius who's working with a group that aims to avert catastrophic breakdown through technological intervention. Patricia is a graduate of Eltisley Maze, the hidden academy for the world's magically gifted, and works with a small band of other magicians to secretly repair the world's every-growing ailments. Little do they realize that something bigger than either of them, something begun years ago in their youth, is determined to bring them together--to either save the world, or plunge it into a new dark ages.
A deeply magical, darkly funny examination of life, love, and the apocalypse.
All the Birds in the Sky
by Charlie Jane Anders
Overall Review:
I didn't know what I was getting into when I began reading this book. Something of a mix between Harry Potter and a dystopian teen novel, All the Birds in the Sky is something quite unique in the science fiction genre. I've never read anything quite like it. The beginning pages didn't feel quite as promising as I had hoped, but once I was a few chapters in, I was hooked.
I was a little disappointed that the hidden magical school that reminded me so much of Hogwarts wasn't written about in much detail. I think there were maybe two pages dedicated to the topic of how Eltisley Maze trained its students in the art of useful magic. I think my favorite parts of this book included the history behind the house of one of the main characters, Patricia, and how she found out hot sauce gave her special powers. Yes, hot sauce.
There was an undercurrent of good vs. evil throughout this book, which was nice. I like it when a book has a deeper meaning than just a story. All the Birds in the Sky is a story of two friends, but also so much more. It is funny at times--smart and fresh. I can't wait to read more from this author.
Content Analysis:
Profanity/Language: 6 Religious exclamations; 4 mild obscenities; 2 religious profanities; 5 derogatory names; 9 scatological terms; 12 F-word derivatives.
Violence/Gore: A young girl finds an injured bird and tries to help it; a cat chases a girl who is carrying a bird; a character suspects he is being watched and poisoned; a character discovers he has been poisoned; a mention is made of someone being run over by a truck and killed; a threat is written on a wall in what appears to be blood; a minor finds an article of clothing in her bag that has blood on it; a dead animal is mentioned to be seen; a boy is beat up and bruised by his peers at school; a character is described to be attacked by someone with a knife in a brief scene; two women are mentioned to be injured by a man; a superstorm occurs and causes extensive destruction.
Sex/Nudity: A minor jokes about taking a girl's shirt off; making out is mentioned; a girl is described to be nude in a non-sexual way; a brief mention of sex is made; a man fantasizes about what a woman might look like nude; a man wonders if sex with a woman might be magical; a sex scene spanning one page occurs with some brief description of touching and kissing (unmarried couple); a woman kisses a man and touches him in a sexual way.
Mature Subject Matter:
Personal and environmental crises, magic, witches, murder, cancer;, bullying, satanic rituals.
Alcohol / Drug Use:
Minors smoke clove cigarettes; a smoking bong smell is noted; adults drink beer and whiskey; marijuana is mentioned; various drugs are mentioned to be in use; recreational drug use is referred to.
Reviewed By Lydia