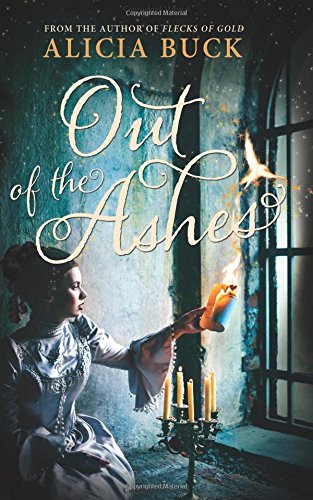 Publisher's Note:
When Ashelandra's father dies, she ends up a servant in her own house, instead of the Baroness she was supposed to become. But Ash's secret sorcery could be the key to winning back her home and following her heart to a future she never imagined. This fantasy-infused Cinderella story puts a magical twist on a classic tale. Riveting and original, it's a spellbinding read.
This book was sent to Compass Book Ratings for review by Sweetwater Books
Out of the Ashes
by Alicia Buck
Overall Review:
If you're under the assumption that this is another typical Cinderella story, throw those expectations aside. While the Cinderella story is recognizable in Out of the Ashes, and it certainly begins similar to what you are used to, author Alicia Buck includes plenty of new ideas and deviations that will keep you guessing. Ashelandra is feisty, and she is often looking to pull a prank, but she is also clever and kind. Unfortunately, she doesn't always think things through prior to executing a plan, which often causes her life to be problematic. Later in the story she finds herself in a fantasy world that is as ever-changing as an arena in The Hunger Games, with magic, creatures, and vegetation as bizarre as one would expect from a Tim Burton film. As with all fairy tales, the villain is evil to the core, constantly making Ashelandra's life a nightmare. Ms. Buck's imagination and interpretation of a well-loved classic are brilliant. You'll be racing to reach the outcome--only to be saddened that the story has come to an end. Anyone who enjoys fantasy or fairy tales will love Out of the Ashes.
Content Analysis:
Profanity/Language: None
Violence/Gore: Many (29) brief incidents including character jokes about slaying a dragon; verbal threats; gun aimed at a character; secondhand reports of death; secondhand report of character burned in fire causing severe burns; talk of war; secondhand report of character getting cut on shoulder; reference to men and their horses getting hurt; murder insinuated; secondhand report of a child getting killed; character cuts self with knife; character grabs another very roughly; character hits another a few times; character gets tied up; character falls and hurts ankle; character lightly hits another's head; fantasy animal gets hurt; fantasy animal kills another; characters cut by trees that have magical abilities; character dies.
Sex/Nudity: Many (24) brief incidents including flirting; dancing; holding hands; hugging; kissing; dreaming about cuddling; touching shoulder; playing with hair; touching face; holding arm; arm around; character leers at another; character grabs another's leg and pushed her bottom to help her onto a horse (non-sexual); two incidents when female character accidentally falls on top of male character; adultery mentioned.
Mature Subject Matter:
Secondhand reports of murder and adultery.
Alcohol / Drug Use:
None
Reviewed By Jenny