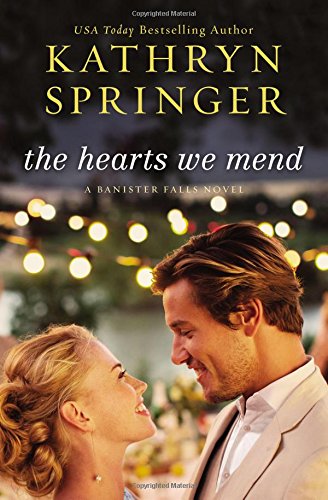 Publisher's Note:
Planning and Post-It notes are the epitome of Evie's life. But when she meets Jack, her life gets more than a little complicated.
Thirteen years ago, Evie's firefighterhusband was killed in the line of duty, leaving her to raise their young son, Cody, alone. Now, Cody is marrying the love of his life, and as he packs up his belongings, the house feels as empty as Evie's heart. But for all her planning and mad organizational skills, Evie could never have anticipated the dramatic shift her life is about to make.
Tattooed, rough-around-the-edgesJack raises quite a few eyebrows in the tight-knit community of Banister Falls. Where Evie's life is stream-lined, Jack's approach to living is moment-by-moment. But as Evie gets drawn into Jack's world—a world that isn't as safe or predictable as the one she's worked so hard to create—he challenges her to open her eyes to the problems outside the walls of the church.
Jack doesn't make Evie feel comfortable, but he definitely makes her feel something. Something she hasn't felt since Max passed away—or, maybe ever. Because even though Jack isn't anything like her late husband, he just might be everything she needs.
This book was sent to Compass Book Ratings for review by Zondervan
The Hearts We Mend
by Kathryn Springer
Overall Review:
The second installment of the Bannister Falls series by Kathryn Springer, The Hearts We Mend, does not disappoint. This novel can be read as a standalone book, but the first book really adds to the richness of the characters. There is a small town feel which appeals to readers.
Springer does a nice job of creating flawed but likeable people. She really pulls at the heartstrings and creates emotional connections. She also manages the religious beliefs of her characters in a realistic and non-preachy manner. Her characters face real challenges and none of them seem too good to be true.
This novel has a little romance, a little danger, a little town and a lot of enjoyment. The pacing is not particularly fast, but it doesn't seem to drag. It moves forward at a small town pace and happily carries readers along with it. Enjoy the story and its characters.
Review of a digital Advance Reader Copy
Content Analysis:
Profanity/Language: None
Violence/Gore: Report of an adult leaving bruises on another, spousal abuse implied; report of a fight involving flying furniture; character wants to hit another.
Sex/Nudity: Report of characters not waiting until marriage; non-married characters kiss and embrace many times.
Mature Subject Matter:
Death of a spouse and parents, spousal abuse.
Alcohol / Drug Use:
Reports of adults drinking beer; report of an adult addicted to painkillers; report of adults dealing drugs.
Reviewed By Susan