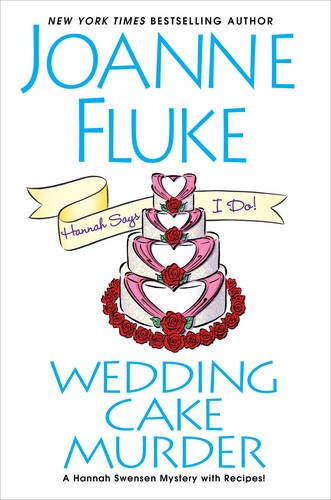 Publisher's Note:
Everyone in Lake Eden, Minnesota, may have had their doubts, but at long last, Hannah Swensen is getting married!
Hannah is thrilled to be marrying Ross Barton, her college crush. And her excitement only grows when she learns he'll be able to join her on her trip to New York City for the Food Channel's dessert chef contest. They get a taste of the Big Apple before Hannah wins the Hometown Challenge and the producers bring all the contestants to Lake Eden to tape the remainder of the show. It's nerve-wracking enough being judged by Alain Duquesne, a celebrity chef with a nasty reputation. But it's even more chilling to find him stabbed to death in the Lake Eden Inn's walk-in cooler—before he's even had a chance to taste Hannah's Butterscotch Sugar Cookies! Now Hannah has not only lost her advantage, she'll have to solve a mystery with more layers than a five-tiered wedding cake…
Indulge In Joanne Fluke's Criminally Delicious Hannah Swensen Mysteries!
This book was sent to Compass Book Ratings for review by Kensington Publishing
Wedding Cake Murder
by Joanne Fluke
Overall Review:
Hannah Swensen has been finding bodies and solving murders for many years now. Wedding Cake Murder is the 19th book in the Hannah Swensen Mystery series penned by Joanne Fluke. Readers really should read the previous novels in order to better understand all of the characters and their connections.
This book follows the format of previous novels, which can result in disastrous diet sabotaging acts and cause readers to drool with delicious anticipation. Recipes are not only included, but discussed frequently by the characters. Some of these discussion seemed a bit too lengthy and in-depth. They disrupted the flow of the story.
The characters in the story seem to be somewhat flat. This may be a function of the fact that previous books have already developed the personalities of the protagonists. Another part of this book which seemed a bit off was the romance between Hannah and Ross. Perhaps having built up years of romantic tension between other characters and having it develop with Ross in only a few short books made for high expectations that were not met. There really was not an option for a satisfactory ending with Hannah's previous relationships, but the one that developed seemed a bit premature or not deep enough. The characters do not really know one another and seem to lack real chemistry. Romantics will find themselves disappointed. The story also seemed to end abruptly.
As a whole, readers who enjoyed Hannah's previous adventures will enjoy the mystery and investigative portions of the story, but that is overshadowed by a lot of in-depth food talk. They will also appreciate the familiarity of friendships from the Lake Eden gang and the obvious love between Hannah and her family members. Not a bad read, but not the best of the series.
Review of a digital Advance Reader Copy
Content Analysis:
Profanity/Language: None
Violence/Gore: Body is found with a knife in it, no blood described; person threatens another with a knife.
Sex/Nudity: Non-married characters kiss and embrace; a few mentions of marital infidelity; mention of a one-night stand; a few times a character is described as sexy; a person is an illegitimate child.
Mature Subject Matter:
Illegitimate children, marital infidelity, murder.
Alcohol / Drug Use:
Many instances of adult characters consuming wine; a few mentions of beer and vodka, a couple of references to characters being smashed and inebriated.
Reviewed By Susan