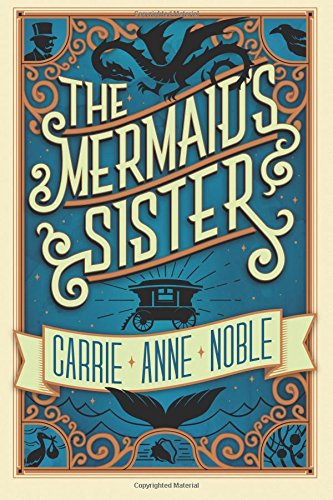 Publisher's Note:
2014 Winner — Amazon Breakthrough Novel Award — Young Adult Fiction
There is no cure for being who you truly are...
In a cottage high atop Llanfair Mountain, sixteen-year-old Clara lives with her sister, Maren, and guardian Auntie. By day, they gather herbs for Auntie's healing potions. By night, Auntie spins tales of faraway lands and wicked fairies. Clara's favorite story tells of three orphan infants—Clara, who was brought to Auntie by a stork; Maren, who arrived in a seashell; and their best friend, O'Neill, who was found beneath an apple tree.
One day, Clara discovers shimmering scales just beneath her sister's skin. She realizes that Maren is becoming a mermaid—and knows that no mermaid can survive on land. Desperate to save her, Clara and O'Neill place the mermaid-girl in their gypsy wagon and set out for the sea. But no road is straight, and the trio encounters trouble around every bend. Ensnared by an evil troupe of traveling performers, Clara and O'Neill must find a way to save themselves and the ever-weakening mermaid.
And always, in the back of her mind, Clara wonders, if my sister is a mermaid, then what am I?
The Mermaid's Sister
by Carrie Ann Noble
Overall Review:
With vibrant lyric prose, Carrie Ann Noble weaves a sweet story of love, family, and acceptance. Her characters are honorable, true, and good. They also struggle with real problems, and they do all they can to help one another. Through misunderstanding and trial, their sense of family holds strong. They allow themselves to be shaped for good by difficulties.
Although the first half of the book is relatively pastoral, seekers of adventure and thrills will not be disappointed. There's enough mayhem to go around, with villains just as wicked as our protagonist is good. Excitement and anticipation make this a book that's almost impossible to put down.
While there is no overt moral message to the story, the reader comes away feeling like a better person. The Mermaid's Sister is both romantic and poignant. This unique, unforgettable fantasy deserves top billing.
Content Analysis:
Profanity/Language: 1 derogatory name.
Violence/Gore: A character has a dream in which she is stabbed with a knife; 2 animals are injured--one dies, one is put down (off page); characters are caught inside a burning wagon--they escape with minor injuries; a character is killed (off page) with no details; a character is known to have murdured several people; a character tells the story of holding a knife to a person's throat; a character knees another character in the groin; a character roughly holds another character in a tight grip (twice); a character tells stories (no detail) about torture and evisceration; in an extended scene (7 pgs), the following happens: a character strangles another character (quickly, few details); a character is seen with blood flowing from a head injury; characters fistfight; a character is shot in the shoulder; a character sets fire to his home (no people inside); a character dies from a gunshot wound (little blood); a character is eaten by a fantasy creature; a character dies of shock.
Sex/Nudity: A character engages in romantic (no detail) thoughts (3 times); characters hold hands (6 times); characters flirt (3 times); modesty issues are addressed related to a mermaid's upper body (4 times), once breasts are briefly viewed by a male character; a character kisses another character's hand (2 times); a married couple indicates that they are going to bed together (no details); a male character sleeps next to a female character; there is a reference to prostitution; a character touches another character's cheek (2 times); characters kiss on the cheek (2 times); characters kiss (5 times); a character disappears under speculation that he is seducing a woman; a character caresses another character's shoulder; a character makes sexual advances (subtle and rejected, 4 times).
Mature Subject Matter:
Death of family member, death of friends.
Alcohol / Drug Use:
Herbal potions are used to both heal and poison.
Reviewed By Leslie