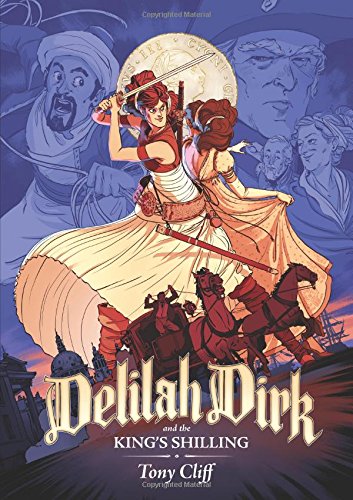 Publisher's Note:
Globetrotting troublemaker Delilah Dirk and her loyal friend Selim are just minding their own business, peacefully raiding castles and and traipsing across enemy lines, when they attract the unwanted attention of the English Army. Before they know it, Delilah and Selim have gotten themselves accused of espionage against the British crown!
Delilah will do whatever it takes to clear her good name, be it sneaking, skirmishing, or even sword fighting... But can she bring herself to wear a pretty dress and have a nice cup of tea with her mother? Delilah Dirk may be defeated at last. By tulle.
This book was sent to Compass Book Ratings for review by First Second Books
Delilah Dirk and the King's Shilling
by Tony Cliff
Overall Review:
The King's Shilling is a delightful addition to what is turning out to be a wonderful series. The story moves along at a fast clip, providing readers with swashbuckling action and plenty of humor thrown in. Add a touch of science fiction and a sinister villain to the mix, and you've got a winner for any reader that loves adventure.
In addition to stunning artwork and fun storytelling, Tony Cliff provides us with a complicated character in Delilah, who isn't the average tomboy. As she learns to use her skills in combat, she also learns to treat her friends and family well, and to exercise diplomacy as well as she wields a sword. Her continued development is something to look forward to in future installments.
Delilah Dirk is one character graphic novel readers will want to get to know.
Content Analysis:
Profanity/Language: 7 mild obscenities, 1 anatomical term.
Violence/Gore: Characters hit and slap, no injuries; several people are shot with arrows (no deaths or major injuries), no gore; in an extended scene (12 pgs), a character fights through several attackers, who are seen falling down; a character is shot in the arm by a gun, minor amount of blood; characters slap each other affectionately; in an extended scene (11 pgs), characters engage in a swordfight, no injuries; a character is knocked off her horse with no injuries; characters fall from a height with no injuries; a character is slapped; a character throws a hairbrush and hits another character in the arm; explosive devices are tested in a remote area; in an extended chase scene (9 pgs), characters engage in sword fighting, hand-to-hand combat, and experience falls with no injuries; a character is hit in the face by an opening door; characters fight using household objects as weapons--two people are rendered unconscious but recover easily; in an extended scene (9 pgs), characters swordfight on a moving coach, involving being dragged and thrown from the vehicle--no injuries; in an extended scene (16 pgs), characters engage in sword fighting and destruction of property with explosives, no injuries; characters briefly swordfight with no injuries; a character has a horse shot out from under him--no gore, and he sustains no injuries.
Sex/Nudity: Two characters embrace briefly.
Mature Subject Matter:
War.
Alcohol / Drug Use:
None
Reviewed By Leslie