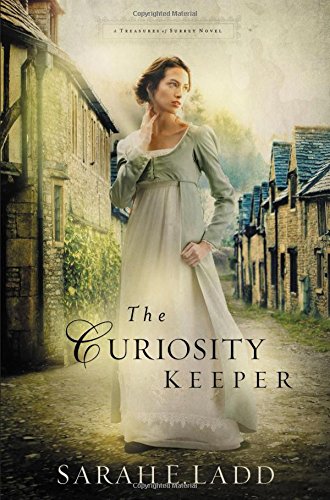 Publisher's Note:
"It is not just a ruby, as you say. It is large as a quail's egg, still untouched and unpolished. And it is rumored to either bless or curse whoever possesses it."
Camille Iverness can take care of herself. She's done so since the day her mother abandoned the family and left Camille to run their shabby curiosity shop. But when a violent betrayal leaves her injured with no place to hide, Camille must allow a mysterious stranger to come to her aid.
Jonathan Gilchrist never wanted to inherit Kettering Hall. As a second son, he was content to work as the village apothecary. But when his brother's death made him heir just as his father's foolish decisions put the estate at risk, only the sale of a priceless possession—a ruby called the Bevoy—can save the family from ruin. But the gem has disappeared. And all trails lead to Iverness Curiosity Shop—and the beautiful shop girl who may be the answer to his many questions.
Caught at the intersection of blessings and curses, greed and deceit, these two determined souls must unite to protect what they hold dear. But when a passion that shines far brighter than any gem is ignited, they will have to decide how much they are willing to risk for their future, love, and happiness.
The Curiosity Keeper
by Sarah E. Ladd
Overall Review:
The Curiosity Keeper has everything one would expect from a Regency novel and so much more. This story will appeal to those who enjoy a romance, but the plot is more complex than readers might expect with action, intrigue, and mystery. Sarah E. Ladd's attention to detail is second to none, with her beautiful, poetic descriptions that paint vivid pictures for the reader. She made this book difficult to put down. The main character, Camille Iverness, is such a great character who has been given a lot to deal with in life, but her emotional strength and ability to bounce back from difficult situations is quite remarkable. Those who love to escape to the Regency period but appreciate a plot that is more than just a romance will enjoy this excellent book!
Content Analysis:
Profanity/Language: None
Violence/Gore: Several (12) brief incidents including character considers getting hanged for a crime; character threatened with knife; gun aimed at character; secondhand reports of characters dying; characters receive non-life threatening injuries with little trauma.
Sex/Nudity: Several (11) brief incidents including female character holds male character's arm and he carries her; touched elbow; hug; kiss; innuendo; "lady of the night" entices a man (no further detail given).
Mature Subject Matter:
Theft.
Alcohol / Drug Use:
Adults drink alcohol; adult smells of alcohol; adult character is intoxicated; adult character smokes pipe; adult character smells of tobacco.
Reviewed By Jenny