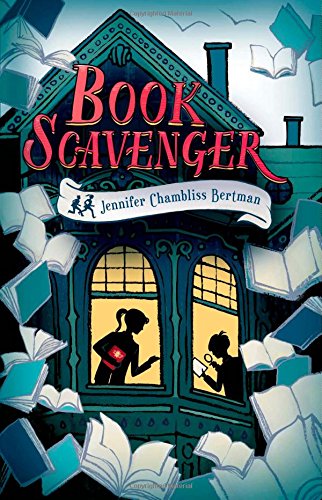 Publisher's Note:
For twelve-year-old Emily, the best thing about moving to San Francisco is that it's the home city of her literary idol: Garrison Griswold, book publisher and creator of the online sensation Book Scavenger (a game where books are hidden in cities all over the country and clues to find them are revealed through puzzles). Upon her arrival, however, Emily learns that Griswold has been attacked and is now in a coma, and no one knows anything about the epic new game he had been poised to launch. Then Emily and her new friend James discover an odd book, which they come to believe is from Griswold himself, and might contain the only copy of his mysterious new game.
Racing against time, Emily and James rush from clue to clue, desperate to figure out the secret at the heart of Griswold's new game?before those who attacked Griswold come after them too.
Book Scavenger
by Jennifer Chambliss Bertman
Overall Review:
Love puzzles, ciphers, and cryptology? Love books? Love a mystery? Love a scavenger hunt? Love San Francisco? Love an adventure? Frankly, there is a lot to love in this book so it is hard to imagine any reader not being able to connect in some way with Book Scavenger by Jennifer Bertman. This book clips right along and is believable every step of the way. The characters' motivations and interactions ring true which provides a solid foundation for the plotline. This is a book that goes down easy and sucks the reader right in. Protagonists Emily and James are likeable, and they take the reader on an adventure while visiting many of San Francisco's famous landmarks. Thoroughly enjoyable and a quick read!
If you liked The Westing Game or Escape from Mr. Lemoncello's Library, then you should definitely check out this title.
Content Analysis:
Profanity/Language: None
Violence/Gore: Brief scene in which character is shot, mention of blood and serious injury results; verbal threats; threat with gun; children are chased by adults on a few occasions; character hit and rendered unconscious.
Sex/Nudity: None
Mature Subject Matter:
Personal crisis (moving).
Alcohol / Drug Use:
None
Reviewed By Cindy