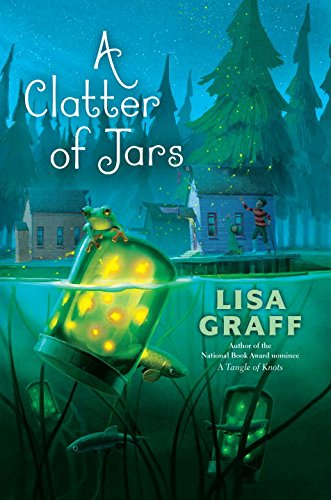 Publisher's Note:
One of the finest novelists of her generation, National Book Award nominee Lisa Graff returns readers to the world of A Tangle of Knots, where a camp for Talented kids just might be a recipe for disaster.

In this magical companion to the National Book Award nominee A Tangle of Knots, it's summertime and everyone is heading off to camp. For Talented kids, the place to be is Camp Atropos, where they can sing songs by the campfire, practice for the Talent show, and take some nice long dips in the lake. But what the kids don't know is that they've been gathered for a reason--one that the camp's director wants to keep hidden at all costs.

Meanwhile, a Talent jar that has been dropped to the bottom of the lake has sprung a leak, and strange things have begun to happen. Dozens of seemingly empty jars have been washing up on the shoreline, Talents have been swapped, and memories have been ripped from one camper's head and placed into another. And no one knows why.

With a camp full of kids, a lake full of magic, and a grown-up full of a secrets, A Clatter of Jars is story of summer, family, and the lengths we go to win back the people we love. Perfect for readers who loved Katherine Paterson's The Great Gilly Hopkins or Louis Sachar's Holes.
This book was sent to Compass Book Ratings for review by Philomel
A Clatter of Jars
by Lisa Graff
Overall Review:
My nine-year-old self is still feeling magically entranced by this book and its characters. Even as an adult, I felt myself being pulled into this story and entering the world of Camp Atropos, a camp for kids with "Talents". If you've read A Tangle of Knots, then you will recognize this term, but if not, then you will be delighted to know that a Talent is basically a special ability that is heavily laced with something that seems like magic. No one ever comes out and says a word about magic, but it is obvious that the abilities these kids hold are not something you would come across in your typical child.
The cover of this book hints at several things. I won't give anything away, but jars do play quite a big part in this book--probably one of my favorite subjects to talk about in this book would be the jars. Once you read the book, you'll find out why.
Personally, I liked A Tangle of Knots better than this second book. I think there was more of a solid story behind the first book, but more of a mystery in this one. A Clatter of Jars is such a fun book, one that I think every child and adult should read. It has everything a good book should: a bit of magic, some mystery, some mischievous characters, and characters that feel like best friends.
Content Analysis:
Profanity/Language: None
Violence/Gore: A group of minors is out on a lake in boats and the boats capsize, all kids arrive safely on shore; a bunch of glass containers explode and shards go flying, no injuries.
Sex/Nudity: None
Mature Subject Matter:
Loss of a loved one, magic.
Alcohol / Drug Use:
None
Reviewed By Lydia