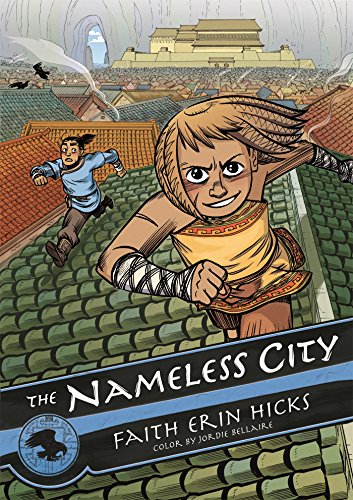 Publisher's Note:
Every nation that invades the City gives it a new name. But before long, new invaders arrive and the City changes hands once again. The natives don't let themselves get caught up in the unending wars. To them, their home is the Nameless City, and those who try to name it are forever outsiders.
Kaidu is one such outsider. He's a Dao born and bred--a member of the latest occupying nation. Rat is a native of the Nameless City. At first, she hates Kai for everything he stands for, but his love of his new home may be the one thing that can bring these two unlikely friends together. Let's hope so, because the fate of the Nameless City rests in their hands.
This book was sent to Compass Book Ratings for review by First Second Books
The Nameless City (The Nameless City #1)
by Faith Erin Hicks
Overall Review:
Set in what appears to be an ancient, Asian-inspired metropolis, author Faith Erin Hicks seizes readers with her captivating world-building in her latest graphic novel, The Nameless City (The Nameless City #1). What draws readers in is the dynamic colorful panels, but what will keep readers absorbed is the charismatic character interaction.
Told through third person, readers explore The Nameless City with warrior in-training Kaidu and local street urchin Rat. This mismatched pair have to overcome the obstacle of preconceived judgments and mistrust. Hicks does a great job of letting readers survey this relationship from its beginnings as cautious acquaintances and into its evolution of reliable allies.
This may be great novel for reluctant readers because much of the story is told through the pictorials. The art is fun and packed with colorful panels, most pages having an upwards of 6 frames. Another appealing factor is its semblance to the popular Avatar: The Last Airbender series.
Though there is a darker theme looming in the background, it mostly stays in the shadows as humor and adventure take center stage in book one. Designed to be a trilogy, this novel does a nice job of setting the stage for the sequels as book one feels like an introduction into what could be.
Content Analysis:
Profanity/Language: None
Violence/Gore: Character is knocked down while sparring with an opponent (about 5x); secondhand report(s) of wars and invasions (about 2x); character is threatened with a beating by a bully; bully briefly beats up character; character remarks that as a child other children would throw objects at him/her; characters are portrayed as injured, blood depicted; character witnesses another character being shoved; character tackles another character (about 2x); character injures him/her(self) in pursuit of another character; character runs into a wall; chaos ensues at a party, pushing and shoving depicted; threat and plot of murder; report of parents being murdered; character is shot with an arrow, believed to be dead; character reports injury occurred during a fall; character punches another character; extended scene (about 2 pages) characters fight with swords, characters are depicted as dead as a result.
Sex/Nudity: None
Mature Subject Matter:
War, death of parents, death, prejudice, inequality, plot to murder.
Alcohol / Drug Use:
Brief mention of drinking.
Reviewed By MaryLou