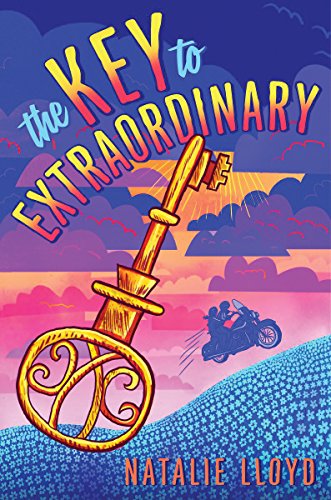 Publisher's Note:
Everyone in Emma's family is special. Her ancestors include Revolutionary War spies, brilliant scientists, and famous musicians--every single one of which learned of their extraordinary destiny through a dream.

For Emma, her own dream can't come soon enough. Right before her mother died, Emma promised that she'd do whatever it took to fulfill her destiny, and she doesn't want to let her mother down.

But when Emma's dream finally arrives, it points her toward an impossible task--finding a legendary treasure hidden in her town's cemetery. If Emma fails, she'll let down generations of extraordinary ancestors . . . including her own mother. But how can she find something that's been missing for centuries and might be protected by a mysterious singing ghost?

With her signature blend of lyrical writing, quirky humor, and unforgettable characters, Natalie Lloyd'sThe Key to Extraordinary cements her status as one of the most original voices writing for children today.
This book was sent to Compass Book Ratings for review by Scholastic Press (A Scholastic Imprint)
The Key to Extraordinary
by Natalie Lloyd
Overall Review:
The Key to Extraordinary is a beautifully written, magical tale of hope, love, dreams and finding your destiny. But if that isn't enough, it is also a delightful mystery with ghosts, strange happenings, and buried treasure that keeps the reader guessing up to the very end. Author Natalie Lloyd is a master story teller, using her skills to create a backwoods-holler-of-a-town, Blackbird Hollow, with characters that not only delight, but enlighten. Lloyd not only creates a delightful setting and has characters that draw one in, but she also adds a bit of fancy, a little magic, and the unexpected to the storyline, and that makes the novel even more enjoyable. This is one novel that is a treat to read.
Twelve-year-old Emma is set on finding her destiny, just as her former ancestors have done and recorded in a journal for her to read about. It seems like everyone's destiny led them to do great things, so she is kind of perplexed when she has a dream revealing her destiny and it doesn't seem to fit with the plan. Along the way to discovering the meaning of this dream she seems to stumble upon her true destiny, which ties in with the first sentence of the novel, "It is a known fact that the most extraordinary moments in a person's life come disguised as ordinary days." Along the journey there are mishaps, encounters with interesting characters, new friends and choices that must be made. These all work together to define Emma's destiny and lead to the happy ending for everyone in the town.
While this novel will appeal across the ages, the younger readers will be drawn in by the ghost stories, the hunt for buried treasure, and the antics of three twelve-year-olds. Those a little wiser will appreciate the gems of wisdom that Lloyd offers throughout the novel. Some of these come in the form of advice or from memories of a departed ancestor, but all give one something to think about. Here a just a few that stood out and had me, as a reader, thinking: "Fear is just a flashlight that helps you find your courage." "Everybody you meet is just a walking, talking broken heart. Some people just put the pieces back together better than others." These gems, as well as the beautifully crafted words, in The Key to Extraordinary by Natalie Lloyd are sure to stick with you long after the reading of the novel and you will come away feeling a little bit enlightened, as well as entertained.
Review of an Advance Reader's Copy
Content Analysis:
Profanity/Language: 1 religious exclamation.
Violence/Gore: Secondhand account written out in a personal memoir about soldiers burning down a house and hitting a girl with the butt of a rifle, causing permanent damage to her eye; character describes what it was like to survive a direct hit of a tornado.
Sex/Nudity: Boy and girl hug; boy and girl hold hands.
Mature Subject Matter:
Death of parents, ghosts.
Alcohol / Drug Use:
None
Reviewed By Sally