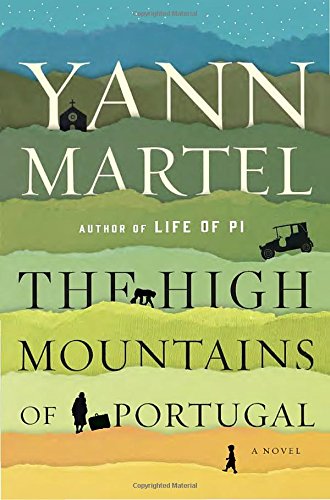 Publisher's Note:
In Lisbon in 1904, a young man named Tomás discovers an old journal. It hints at the existence of an extraordinary artifact that—if he can find it—would redefine history. Traveling in one of Europe's earliest automobiles, he sets out in search of this strange treasure.

Thirty-five years later, a Portuguese pathologist devoted to the murder mysteries of Agatha Christie finds himself at the center of a mystery of his own and drawn into the consequences of Tomás's quest.

Fifty years on, a Canadian senator takes refuge in his ancestral village in northern Portugal, grieving the loss of his beloved wife. But he arrives with an unusual companion: a chimpanzee. And there the century-old quest will come to an unexpected conclusion.

The High Mountains of Portugal—part quest, part ghost story, part contemporary fable—offers a haunting exploration of great love and great loss. Filled with tenderness, humor, and endless surprise, it takes the reader on a road trip through Portugal in the last century—and through the human soul.
This book was sent to Compass Book Ratings for review by Spiegal & Grau
The High Mountains of Portugal: A Novel
by Yann Martel
Overall Review:
I was a little late to the party when reading The Life of Pi and I think when I read it I had heard so many hyped-up things that I was a bit disappointed. I still enjoyed it, and I definitely think that Yann Martel has a great talent for writing. I went into this most recent novel with a sense of hope, but not too much. I think it fell right where I expected it to.
The High Mountains of Portugal is a "novel", or at least that is what the cover claims. But it is not a novel in the traditional sense. No, this book is split up into three seemingly unrelated short stories that have characters unique to each. The first section of the book, titled "Homeless" tells the story of a man who has acquired one of the first automobiles. He sets off on a sort of quest, and it was quite fun to ride along through all of the bumps and bruises encountered. The second section is called "Homeward" and held some of the magical realism I adore so much. Much of this part of the story wasn't very believable, but I had fun trying. And then you come to the last story, "Home", which pretty much made no sense to me whatsoever.
So this book was a wonder to behold simply because Yann Martel is a master of word and language, but the stories leave something to be desired. I would recommend reading this book to get it on your shelf of books you have tackled, and to maybe see if you have a different perspective than me, but don't go into it expecting to fall in love.
Review of an Advance Reader's Copy
Content Analysis:
Profanity/Language: 2 religious exclamations; 2 mild obscenities; 1 anatomical term; 1 F-Word derivative.
Violence/Gore: Three family members are mentioned to have passed from a sickness; characters are observed to be tossed off a ship to their death; a character is mentioned to be slightly injured; a fight to the death occurs with the opponent slightly injured; a mention of Biblical miracles and healings of maladies is mentioned; a graphic autopsy is performed and described (cutting, stitching, etc.); a child is mentioned to be dead with no description.
Sex/Nudity: A character is mentioned to have a lack of sexual knowledge; a man is mentioned to have utilized prostitutes; an unmarried woman finds she is with child; a man undresses in front of a woman in a sexual way with no explicit detail; a woman offers to undress for a man she loves; a man and woman touch each other and kiss; a woman undresses in a non-sexual scene; the private areas of a deceased male are mentioned and briefly described.
Mature Subject Matter:
Murder, marital disagreements, personal crises, death.
Alcohol / Drug Use:
A man drinks wine; adults smoking is mentioned.
Reviewed By Lydia