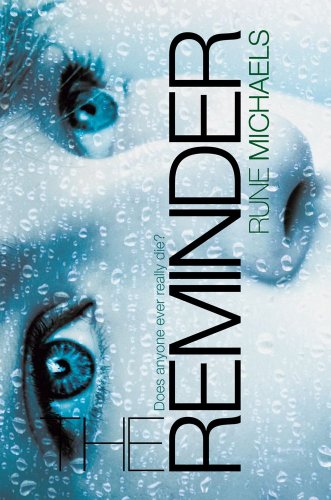 Publisher's Note:
Daisy, otherwise known as Daze, hears her dead mother's voice. Sometimes it's because of her dad, who likes to watch old home movies when he can't sleep. Sometimes it's because of her brother, who is too young to remember Mom, and needs to be reminded by looking at photographs and watching videos. Sometimes it might just be her mind trying to work out what her therapist would call "issues." But this time, it's none of those things. It's something much more wonderful and much more terrifying, something Daze never thought possible. And it might allow her to do what she couldn't years ago: save her mother's life.
The Reminder
by Rune Michaels
Overall Review:
Upon reading the first page of The Reminder it could appear to be a ghost story. Continuing on, you will discover it isn't as it first seems; so if scary stories aren't your thing (or even if they are), keep reading. The book wasn't at all as expected and yet it was a really great read. This is such a well-written story of coping with the loss of a mother. Daisy, or Daze as many call her, struggles every day with losing her mother at a young age. Now she and her father work together to help raise her little brother which has its own frustrations, as if trying to deal with life as a teenager wasn't enough. Rune Michaels makes the story feel so authentic with great characters and real emotions that you wonder if it was based on a true story. Michaels also throws a surprise at the reader in the end that was completely unexpected. Those who have lost a parent or loved one might find this story helpful in dealing with their loss. It will also appeal to those who are interested in a teen story with an atypical plot.
Content Analysis:
Profanity/Language: 1 religious exclamation; 2 mild obscenities.
Violence/Gore: Several (11) brief incidents including character makes reference to potential to could get killed; character desires to hit and kick another; character jokingly wonders if another expects her to hit dolls with hammers; mother of young children dies; references to cancer; discussions about death; references to suicide; character kicks and gets kicked receiving non-life threatening injuries; character elbowed which results in a nosebleed.
Sex/Nudity: Few (2) brief incidents including kissing and character puts hand on another's; little boy removes clothes for bath.
Mature Subject Matter:
Anorexia, death, cancer, suicide.
Alcohol / Drug Use:
Secondhand report of character dying of drug overdose.
Reviewed By Jenny