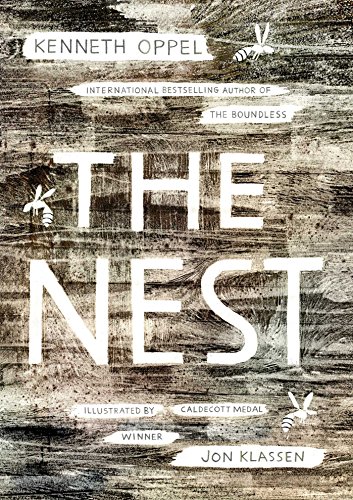 Publisher's Note:
Steve just wants to save his baby brother—but what will he lose in the bargain? Kenneth Oppel's (Silverwing, The Boundless) haunting gothic tale for fans of Coraline, is one of the most acclaimed books of the year, receiving six starred reviews. Illustrations from Caldecott Medalist Jon Klassen.

For some kids summer is a sun-soaked season of fun. But for Steve, it's just another season of worries. Worries about his sick newborn baby brother who is fighting to survive, worries about his parents who are struggling to cope, even worries about the wasp's nest looming ominously from the eaves. So when a mysterious wasp queen invades his dreams, offering to "fix" the baby, Steve thinks his prayers have been answered.

All he has to do is say "Yes." But "yes" is a powerful word. It is also a dangerous one. And once it is uttered, can it be taken back?

Celebrated author Kenneth Oppel creates an eerie masterpiece in this compelling story that explores disability and diversity, fears and dreams, and what ultimately makes a family. Includes illustrations from celebrated artist Jon Klassen.
The Nest
by Kenneth Oppel
Overall Review:
Being an avid fan of Kenneth Oppel's Airborn Series, I didn't investigate The Nest before I picked it up, other than to see that it had good buzz and was a ALA Notable Book for Young Readers. Although I had seen this author's darker side in This Dark Endeavor (which was quite good), I was not prepared for The Nest. In a nutshell, The Nest is essentially a horror book and is written in a disjointed, confusing style that is reminiscent of a shaky hand-held video recorder. It was bizarre and slightly disturbing. No blood or gore here--this is written for middle grade readers, but there is enough creepiness to unsettle. To be fair, I am not a fan of the horror genre, so that coupled with a writing style I am not fond of makes it impossible for me to sing praises to this book--regardless of how much I have enjoyed Mr. Oppel's other books and what accolades The Nest has received.
Content Analysis:
Profanity/Language: None
Violence/Gore: Character has a series of frightening dreams; insect stings a character; frightening/creepy scene when a character approaches a home with child alone in house an leaves a weapon; frightening/creepy scene involving a phone call; baby is ill; insect is killed by human frightening/creepy extended scene of insect swarming resulting in serious injury.
Sex/Nudity: None
Mature Subject Matter:
Severe illness, personal and family crisis, mental health/phobia issues, disabilities, kidnapping, supernatural.
Alcohol / Drug Use:
None
Reviewed By Cindy