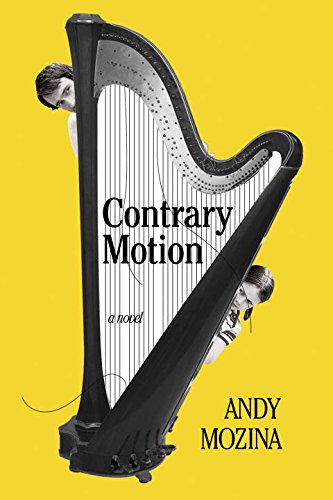 Publisher's Note:
By turns hilarious and bittersweet, Andy Mozina's winning debut novel introduces a charming new hero for our times: a dysfunctional, divorced family man whose passion for life comes straight from the harp.

Matthew Grzbc is a talented musician who plays the concert harp. He is a divorced dad who lives in Chicago, has a sexy girlfriend, and has a major, potentially life-changing audition with an orchestra on the horizon. At least that's how he appears on paper. But take a closer look and a very different man starts to emerge: an obsessive, self-sabotaging Midwesterner, fumbling through his relationship with his curiously neurotic six-year-old daughter and headed for destruction in his romantic life by grasping at any remotely affectionate warm body, including that of his ex-wife. Instead of playing to sold-out concert halls, he spends his days plucking out "Send in the Clowns" at hotel brunches, and his weekends serenading the captive audience at the local hospice.

When his father dies unexpectedly (while listening to a meditation tape), Matt's life begins to come untethered. In quick succession his ex-wife gets engaged, his girlfriend begins to pull away, and his daughter starts acting out. With his audition rapidly approaching, Matt is paralyzed by panic—why can't he hold it together and follow his dream? And what does that even mean, if you're not sure what it is you really want?

Funny, poignant, and thoroughly engaging, Contrary Motion is a journey deep inside a male mind as it searches—desperately—for a way to balance life, love, and a harp.
This book was sent to Compass Book Ratings for review by Spiegal & Grau
Contrary Motion: A Novel
by Andy Mozina
Overall Review:
Beginning this book, I honestly did not think it would be worth my time, or four stars. I didn't know much about Contrary Motion because the copy I had was a review copy with a plain cover and no synopsis. Once I had the first few chapters down, I began to feel a spark of hope that this book might be something good. My hopes were not in vain. This book is worth your time.
I'm not a musician, but I still adored this book. So if you are a musician, particularly a harpist, you will most likely find a little more to relate to in this book than I did. I felt this book was chick-lit, in men's form. I enjoyed reading it, and I assume men might also, since it is primarily about a man, his love life, family, and struggles. I've never read anything by Mr. Mozina before, but if his other books are similar to Contrary Motion, then they are probably something I will want to check out.
The story set forth is realistic and what I imagine life would be like for a divorced man, simply trying to make do and keep custody of his beloved daughter. I enjoyed reading about the protagonist, Matthew Grzbc, and his life in and around Chicago as a struggling musician. Not my typical read, but definitely glad I tried it!
Review of an Advance Reader's Copy
Content Analysis:
Profanity/Language: 12 religious exclamations; 2 mild obscenities; 3 derogatory names; 12 scatological words; 3 anatomical terms; 14 F-Word derivatives.
Violence/Gore: A man mentions his father dying of prostate cancer and a heart attack; a brief fight is observed.
Sex/Nudity: Sex is referred to; a couple kiss on the cheek; a man is mentioned to "make a pass" at a woman and touch her breast; a man and woman have sex in one brief scene with some description of the sex acts; a man and woman are mentioned to be naked while sex is implied; a mans sexual ineptitude is mentioned, he is self-conscious about his abilities; a young man's sexual awakening is mentioned; a man and woman are mentioned to be sexually active; adults kiss.
Mature Subject Matter:
Divorce, death, cancer, illegal acts, sex identity issues.
Alcohol / Drug Use:
A minor accidentally overdoses on a pain reliever; manufacturing beer is mentioned; adults are mentioned to get drunk; a teacher is mentioned to be a smoker.
Reviewed By Lydia