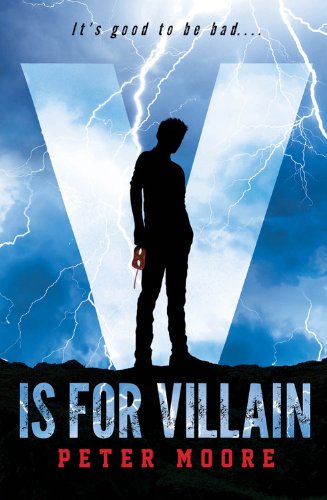 Publisher's Note:
Brad Baron is used to looking lame compared to his older brother, Blake. Though Brad's basically a genius, Blake is a superhero in the elite Justice Force. And Brad doesn't measure up at his high school, either, where powers like super-strength and flying are the norm. So when Brad makes friends who are more into political action than weight lifting, he's happy to join a new crew-especially since it means spending more time with Layla, a girl who may or may not have a totally illegal, totally secret super-power. And with her help, Brad begins to hone a dangerous new power of his own.

But when they're pulled into a web of nefarious criminals, high-stakes battles, and startling family secrets, Brad must choose which side he's on. And once he does, there's no turning back.
V is for Villain
by Peter Moore
Overall Review:
There are plenty of super hero books out there these days, but this book is for that high schooler that is comfortable with a world painted in shades of gray, without bright-line black and white characters and motivations. Author Peter Moore doesn't flip the genre so much as give it a twist and turn it on its side; this is definitely not the conventional approach. The narrative is told entirely from the first person view of Brad Baron, and it is focused on moving the story forward. This does result in most of the other characters feeling incidental and shadowy. Although this isn't a book driven by heavy action scenes, it moves along remarkably well. V is for Villian reads satisfyingly as a stand-alone with no indication that there is a sequel planned. (However, a sequel would be possible given the ending.) V is for Villian is also a great guy read.
Content Analysis:
Profanity/Language: 25 mild obscenities; 6 derogatory names; 10 scatological words; 10 anatomical terms; 1 offensive hand gesture.
Violence/Gore: Character severely injured in a violent game at school; a live battle (bombs, hand-to-hand fighting) is watched on TV; reports of battle action; characters blow up something resulting in large destruction of property; character forces another to hold some items that "explode", resulting in serious injury; character throws a punch at another; character desires to kill another; report on TV that someone has been killed; several page non-graphic battle scene between characters with super-powers resulting in deaths, unconsciousness, injuries with blood mentioned.
Sex/Nudity: Innuendo; innuendo about a nickname; joking about porn on a couple of separate occasions; character feels something is "more intimate than sex"; reference to "hooking up"; reference to testicular atrophy as a side effect and a resulting nickname; characters kiss; implied sexual activity between two teenagers.
Mature Subject Matter:
Ethics, stealing, politics, conspiracies, scientific experimentation, treason, death.
Alcohol / Drug Use:
None
Reviewed By Cindy