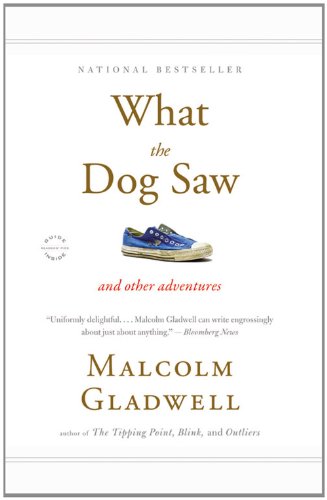 Publisher's Note:
What is the difference between choking and panicking? Why are there dozens of varieties of mustard-but only one variety of ketchup? What do football players teach us about how to hire teachers? What does hair dye tell us about the history of the 20th century?
In the past decade, Malcolm Gladwell has written three books that have radically changed how we understand our world and ourselves: The Tipping Point; Blink; and Outliers. Now, in What the Dog Saw, he brings together, for the first time, the best of his writing from The New Yorker over the same period.
Here is the bittersweet tale of the inventor of the birth control pill, and the dazzling inventions of the pasta sauce pioneer Howard Moscowitz. Gladwell sits with Ron Popeil, the king of the American kitchen, as he sells rotisserie ovens, and divines the secrets of Cesar Millan, the "dog whisperer" who can calm savage animals with the touch of his hand. He explores intelligence tests and ethnic profiling and "hindsight bias" and why it was that everyone in Silicon Valley once tripped over themselves to hire the same college graduate.
"Good writing," Gladwell says in his preface, "does not succeed or fail on the strength of its ability to persuade. It succeeds or fails on the strength of its ability to engage you, to make you think, to give you a glimpse into someone else's head." What the Dog Saw is yet another example of the buoyant spirit and unflagging curiosity that have made Malcolm Gladwell our most brilliant investigator of the hidden extraordinary.
What the Dog Saw: And Other Adventures
by Malcolm Gladwell
Overall Review:
What the Dog Saw is written by Malcolm Gladwell, an author who always seems to share quirky and never-before-heard-of-truths about the world we all thought we knew. Usually his books span one topic in depth, but What the Dog Saw tours many different topics, chapter by chapter. This reader encountered more information about psychopathic murderers than she thought she needed to know. But the reader will also learn about hair dye and dog training in this captivating work of nonfiction.
The book, as could be expected, is well-written. Not all topics might interest every reader. However, the great variety counteracts that. This book will teach you many unexpected and sometimes fun truths.
The audiobook is narrated by the author, which is usually the best way. After all, the author knows how to perfectly tone the voice for what was meant to be said. This is a good audiobook for a trip because there are a variety of topics, and if you tire of the current topic, you can always skip to the next chapter without much loss.
Content Analysis:
Profanity/Language: 2 religious exclamations; 3 mild obscenities; 2 religious profanities; 2 scatological words; 1 anatomical term; 1 offensive hand gesture; 1 f-word derivative.
Violence/Gore: A person is said to have hired hitmen with plans to kill their spouse; a slicing action is compared to castration; a disturbing multi-murder scene is mentioned, including a somewhat graphic description of a killed and raped child; a man is said to have murdered several people; a couple types of murderers are mentioned and discussed, not graphic; a graphic scene is described of a raped and mutilated corpse; different types of disturbed rapists and murderers are discussed; a hypothetical raped is discussed, not very detailed; a violent scene is portrayed a couple of times where a dog attacks a child and two adults (not detailed but is frightening).
Sex/Nudity: A sexual innuendo; a comparison is made to parts of the body normally clothed; pornography is mentioned; a person speculates about a killer's sexual habits.
Mature Subject Matter:
Socioeconomic conflict, death, attempted murder of spouse, rape, murder and serial murder, rape of a child, dog attack.
Alcohol / Drug Use:
There is lots of discussion on the habits of some heavy alcohol drinkers.
Reviewed By Amber