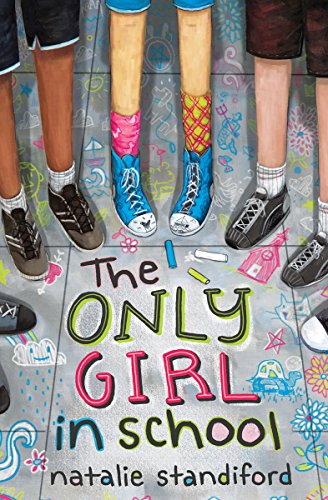 Publisher's Note:
She's the only one who knows what it's like to be the only one.

When Claire's best friend, Bess, moves away, she becomes the only girl left in her entire school. At first, she thinks she'll be able to deal with this -- after all, the girls' bathroom is now completely hers, so she can turn it into her own private headquarters and draw on the walls. When it comes to soccer games or sailing races, she can face off against any boy.

The problem is that her other best friend, Henry, has begun to ignore her. And Webby, a super-annoying bully, won't leave her alone. And Yucky Gilbert, the boy who has a crush on her, also won't leave her alone.

It's never easy being the only one -- and over the course of a wacky school year, Claire is going to have to make it through challenges big and small. The boys may think they rule the school, but when it comes to thinking on your feet, Claire's got them outnumbered.
This book was sent to Compass Book Ratings for review by Scholastic Press (A Scholastic Imprint)
The Only Girl in School
by Natalie Standiford
Overall Review:
Being the only girl in your class is tough, but when you're the only girl in the entire school it's a whole other level of difficult. But that is exactly the predicament that Claire finds herself in at the beginning of her fifth grade year.
The Only Girl in School by Natalie Standiford is a cute, fast-paced tale of perseverance in the face of a difficult situation. The main character, Claire, is plucky and likable, despite coming across as whiney at times. You cheer her on as she takes on the boys in her class, and sometimes the whole island, through challenges and teasing. The story is told in letter format as Claire communicates her daily life to her best friend, Bess, who moved across the country right before the beginning of the school year. Because of this more intimate writing style the reader feels with Claire the highs and lows of the school year and sees the growth that occurs even before Claire does. The Only Girl in School is an enjoyable read, and, one that many young readers will be able to relate to.
Content Analysis:
Profanity/Language: None
Violence/Gore: Character worries friend was in an accident; character gets hit with balls during game; character's food is sabotaged with hot sauce; several instances of a character being tripped during game; characters knocked into the water; boats almost collide during race; boy punches girl's arm; character elbows another character; character's picture defaced; character trips another; character sabotages clothes; character slips and falls; character is handcuffed to a table; character is charged by an animal; character falls off a horse; character has food thrown at her
Sex/Nudity: Few instances of a boy trying to kiss a girl.
Mature Subject Matter:
Bullying, friendship, perseverance, ghosts, loneliness.
Alcohol / Drug Use:
None
Reviewed By Amberle