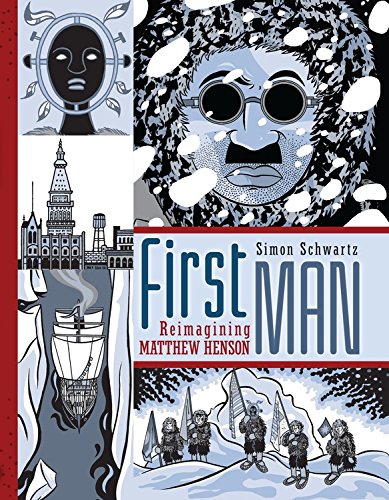 Publisher's Note:
In this graphic novel, Simon Schwartz weaves biography and fiction together to explore the life of Arctic adventurer Matthew Henson. Moving between different time periods and incorporating Inuit mythology, Schwartz offers fresh perspective on the many challenges Henson confronted during his life. As a member of early missions to reach the North Pole, Henson braved subzero temperatures and shifting sea ice. As an African American at the turn of the twentieth century, he also faced harassment and prejudice. Henson won a place on Arctic expeditions through skill and determination--though he didn't receive the same credit as his teammates. He also won the respect of the native peoples he met during his journeys--though he couldn't prevent the harm that the expeditions caused them. More than a biography, First Man: Reimagining Matthew Henson is an artistic homage to Henson's accomplishments and the complicated realities of being a trailblazer in a society that didn't recognize black men as equals.
This book was sent to Compass Book Ratings for review by Lerner Publishing Group
First Man: Reimagining Matthew Henson
by Simon Schwartz
Overall Review:
In a thought-provoking look at African-American explorer Matthew Henson's life, graphic novelist Simon Schwartz forges fact and fiction in Firstman: Reimagining Matthew Henson. Schwartz elicits the arduous journey which Henson faced not only in his exploration of the North Pole, but also as a black man in a prejudiced society.
Told through third person, the author portrays the story by entwining different stages of Henson's life through a series of flashbacks. These recollections create interest to the chronology, and keep readers' attention.
The pictorials are displayed with blue, gray, and white--mimicking the cold climate Henson found himself in, and I'm not just referring to the Arctic expedition.
A fun aspect of the book is the incorporation of Inuit mythology. The combined lore weaves seamlessly into the tale and adds an alluring charm to the overall story.
Take a look at the back of the book for an accurate timeline of Henson's life to better gauge the truthfulness of Schwartz's work because it is a work of fiction. Although Schwartz takes artistic freedoms in his homage by playing at fictitious interactions and occurrences in Henson's life, it does not diminish Henson's achievements; rather, it makes Henson more personable, and will hopefully encourage readers' to learn more about this amazing man.
Content Analysis:
Profanity/Language: 5 religious exclamations; 9 mild obscenities; 1 religious profanity; 3 racial derogatory names; 2 scatological words; 1 anatomical term.
Violence/Gore: Newspaper article states death; depiction of Klu Klux clan members standing near 2 lynched individuals; extended scene (about 1 page) character is knocked over hitting his/her head, character hits another character resulting in a physical altercation, portrayal of blood; character is attacked by 2 assailants resulting in injuries; character threatens assailants with gun; character points gun at another character's head; depiction of character falling from a cliff to his/her demise; characters are tasked at gun point; human trafficking; character smashes dishes in anger.
Sex/Nudity: Married male character kisses female who is not his wife; implication of extramarital affair; character makes a sexual reference to a gun and male anatomy.
Mature Subject Matter:
Racial injustice/prejudice/discrimination, extramarital affair.
Alcohol / Drug Use:
Characters drink from a bottle that may be alcohol; depiction of character smoking a cigar/cigarette.
Reviewed By MaryLou