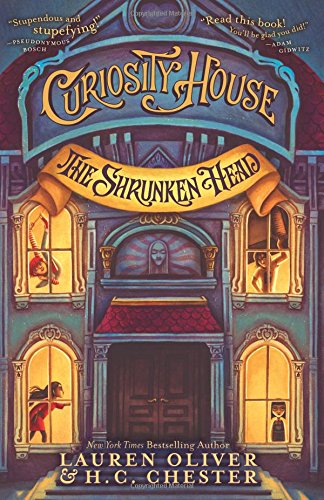 Publisher's Note:
The book is about, among other things: the strongest boy in the world, a talking cockatoo, a faulty mind reader, a beautiful bearded lady and a nervous magician, an old museum, and a shrunken head.
Blessed with extraordinary abilities, orphans Philippa, Sam, and Thomas have grown up happily in Dumfrey's Dime Museum of Freaks, Oddities, and Wonders. But when a fourth child, Max, a knife-thrower, joins the group, it sets off an unforgettable chain of events.
When the museum's Amazonian shrunken head is stolen, the four are determined to get it back. But their search leads them to a series of murders and an explosive secret about their pasts. This sensational new series combines the unparalleled storytelling gifts of Lauren Oliver with the rich knowledge of the notorious relics collector H. C. Chester.
What you will find in this book:
A rather attractive bearded lady
Several scandalous murders
A deliciously disgusting Amazonian shrunken head
Four extraordinary children with equally extraordinary abilities
A quite loquacious talking bird
What you will NOT find in this book:
An accountant named Seymour
A never-ending line at the post office
Brussels sprouts (shudder)
A lecture on finishing all your homework on time
A sweet, gooey story for nice little girls and boys
Learn more about the series online at www.thecuriosityhouse.com.
Curiosity House: The Shrunken Head
by Lauren Oliver and H.C. Chester
Overall Review:
Orphans, mysteries, cursed objects, unusual characters, and a bizarre setting are just a few of the things that make this book brilliant. Set in New York City in the early 1900's at Dumfrey's Dime Museum of Freaks, Oddities, and Wonders, The Shrunken Head is a mystery, but it is also a story about some unlikely friends. Philippa, Sam, Thomas, and Max are excellent characters and will appeal to both female and male readers. This book has atmosphere in spades and a villain with a touch of a Count Olaf-vibe. A bonus are the wonderful and whimsical illustrations by Benjamin Lacombe that are sprinkled throughout. This is the type of mystery with clues left throughout for the discerning reader so they can actually solve the puzzle along with the characters; however, never fear, there are a few twists that will still surprise.
This book would actually be enjoyed by readers slightly younger than 12, but 12+ was used because 9+ (the next lowest age category on the website) seems like a tender reading age for a book with children brushing up close with murder. (See content detail below.)
Content Analysis:
Profanity/Language: 5 religious exclamations; 1 mild obscenity.
Violence/Gore: Listing (no descriptions) of some items in a museum that are a little gruesome, such as a Pharaoh's toe, an eyeball of a cyclops floating in a jar, etc.; report of death from a fall; police officer rattles off a list of crimes committed in the city; reference to a famous murderess; children encounter a man dead by hanging and cut him down; character makes up story about grandmother dying and begins embellishing with gruesome details until stopped; brief, hypothetical discussion about hanging self v. murder; character found poisoned (no description); item thrown at character with intent to seriously harm or kill; scene in a morgue where children are looking at bodies and hiding; girls fight each other by scratching, pulling hair; character shoved in attempt to kill; child stabs (hard) adult in the hand with a toothpick; children come upon a character who has been murdered; threat to harm/kill; attempted murder; destruction of property.
Sex/Nudity: None
Mature Subject Matter:
Prejudice/intolerance, breaking and entering, stealing, blackmail, arson, murder, death.
Alcohol / Drug Use:
A character is said to have had a drinking problem; adult asks for whiskey; man says he takes a nightcap each night; adults drink and smoke; children go into a bar looking for someone; adult jokes with kids about drinking champagne and beer.
Reviewed By Cindy