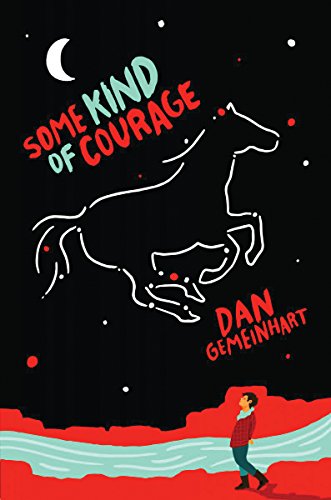 Publisher's Note:
Joseph Johnson has lost just about everyone he's ever loved. He lost his pa in an accident. He lost his ma and his little sister to sickness. And now, he's lost his pony-fast, fierce, beautiful Sarah, taken away by a man who had no right to take her.

Joseph can sure enough get her back, though. The odds are stacked against him, but he isn't about to give up. He will face down deadly animals, dangerous men, and the fury of nature itself on his quest to be reunited with the only family he has left.

Because Joseph Johnson may have lost just about everything. But he hasn't lost hope. And he hasn't lost the fire in his belly that says he's getting his Sarah back-no matter what.

The critically acclaimed author of The Honest Truth returns with a poignant, hopeful, and action-packed story about hearts that won't be tamed... and spirits that refuse to be broken.
This book was sent to Compass Book Ratings for review by Scholastic Press (A Scholastic Imprint)
Some Kind of Courage
by Dan Gemeinhart
Overall Review:
Some Kind of Courage is a moving and at times heart-breaking novel by author Dan Gemeinhart about not only courage, but perseverance, resilience, and love for others. It takes place in the frontier times of Washington, when life was certainly a lot harder. Young Joseph is seemingly alone in this hard world and is set and determined to find his beloved horse, Sarah, which was unknowingly sold from him. As he faces what seem to be unsurmountable obstacles keeping him from finding her, Joseph learns to rely on the kindness of others, even if it comes from unlikely sources. From a young and lonely Chinese immigrant named Cheng to an Indian chief and a woman in labor, Joseph is helped along his journey and learns what it means to give and receive and that life is not just full of hard knocks, but also full of kindness and joy.
Somewhat of a coming-of-age story, Some Kind of Courage is filled with bits of wisdom and counsel as Joseph remembers the advice and lessons taught to him by his now deceased parents. He also learns from the example of those who help him on his way, shaping him into a young man that would make his mother proud. But that is not all that he learns along the journey. He also comes to realize the power of love, not only from those he has lost, but from those that enter his life and help him in his quest. From them he says he's learned, "Taking care is what we do, I s'pose. It's all we can do really. All we can do is be there. And sometimes that is enough."
Some Kind of Courage is a fast-paced, adventure-filled novel that will captivate you as well as move you to feel for Joseph. The lessons he learns as well as remembers will stick with you and as a reader you will come away from this novel feeling like you can be a better person. One lesson he remembers learning from his mother as he saw how others were treating Cheng has already been used in our household during a teaching moment. She said, "Any word can be an ugly word if you say it ugly", which is a lesson that can be applied to this day and age as well. So even though Joseph is facing the hardships that come from living in frontier Washington, the lessons he learns can be applied to our day and age, making this a novel that will surely transcend time.
Content Analysis:
Language/Profanity: 13 Religious Exclamations; 15 Mild obscenities; 1 derogatory name (name used to refer to the Chinese immigrants in that time period).
Violence/Gore: Boy points gun at man; description of how someone dies in a wagon crash; secondhand account of man whipping horses; frightening scene of 2 characters being chased by an animal (4 pages); description of injuries received from being attacked by an animal; boy attacked by another boy with a knife; character hits another on the head with a shovel, knocking him unconscious; frightening account of 2 characters almost drowning in rapids (4 pages);secondhand account of man being murdered; young character points gun at man and shoots him-leaving him to die, bleeding mentioned; character accidently shoots an animal; characters discuss whether they should put an animal out of its misery by shooting it.
Sex/Nudity: Boy described as naked after his pants fall down (non-sexual).
Mature Subject Matter:
Death of parents and other loved ones, racism, childbirth (vaguely described), murder.
Alcohol / Drug Use:
Man described as being drunk (2 times); man offers whiskey to a child; man offers child a drink of alcohol and child takes a swig.
Reviewed By Sally