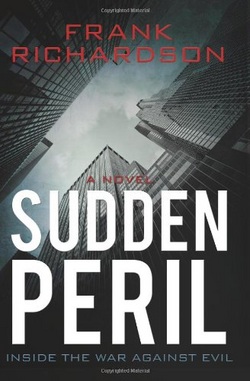 Publisher's Note:
Jamie Madero's summer internship turns out to be anything but ordinary when he discovers the truth about The Freemen Foundation. Now outnumbered and outgunned, Jamie and his fellow Insiders must stay one step ahead of their enemies to survive in this high-stakes novel of intrigue and deception. This perfect adrenaline rush of a book is suspenseful, surprising, and packed with action. You won't be able to put it down.
This book was sent to Compass Book Ratings for review by Cedar Fort
Sudden Peril
by Frank Richardson
Overall Review:
The Freedom Foundation is a special organization. Their objective is to uncover and expose evil 'big business' involved in secret combinations with the intent to usurp ultimate power, control, and money. However, as good as the intent of the foundation is, they are ill prepared to meet with the foes they hope to stop. They meet with many different groups of very evil and designing people who could care less about human life or decency. Regardless of the danger, though, this small group of faithful people continues onward in their fight to maintain freedom for all. Most of the group consists of Mormons and there is quite a bit of interesting trivia about the religion in general throughout the book. We even get a look into a first discussion with some sister missionaries when someone is trying to get behind the motives of the Freedom Foundation. There were many interesting characters along the way. I enjoyed the growth of the new intern as he learned the hard way how to truly define his character, without any idea of what he was doing or why. The bad guys are thoroughly evil and make you shiver and clench your teeth when they're around; the media are annoying; the good guys are persistent and have many faith promoting moments that help them to move forward. The ending doesn't tie everything together with a bow—is that an opening for another installment, or a Hitchcock cliffhanger letting us fill in the blanks? There are lots of twists and turns that certainly keep you guessing! At times I felt that I was missing something, as if I was reading the second book in a series, but by the end most everything was clear. Sudden Peril will definitely have appeal to LDS adults who love the thriller/conspiracy theory genre, but you don't need to be a 'member' in order to enjoy this action filled story.
Content Analysis:
This was a very intense thriller, and while there was no profanity or sex, there is a LOT of violent action. Many characters are killed—some from being shot, others from 'accidents'. Many more are severely wounded by gun shots, sabotage, beatings, etc. There are kidnappings and evil people with malicious intent. The bad guys are evil and have no conscience. There is a lot of self-serving brutality, truth twisting, and turning a blind eye to evil.

Mature Subject Matter:
***
Alcohol / Drug Use:
***
Reviewed By Emily