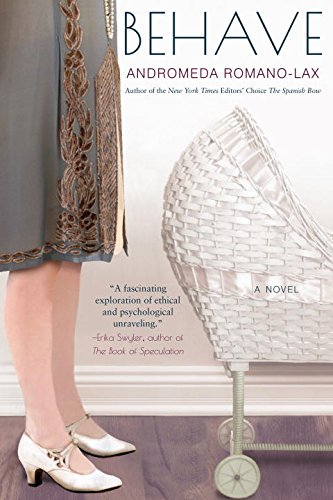 Publisher's Note:
"The mother begins to destroy the child the moment it's born," wrote the founder of behaviorist psychology, John B. Watson, whose 1928 parenting guide was revered as the child-rearing bible. For their dangerous and "mawkish" impulses to kiss and hug their child, "most mothers should be indicted for psychological murder."

Behave is the story of Rosalie Rayner, Watson's ambitious young wife and the mother of two of his children.

In 1920, when she graduated from Vassar College, Rayner was ready to make her mark on the world. Intelligent, beautiful, and unflappable, she won a coveted research position at Johns Hopkins assisting the charismatic celebrity psychologist John B. Watson. Together, Watson and Rayner conducted controversial experiments on hundreds of babies to prove behaviorist principles. They also embarked on a scandalous affair that cost them both their jobs—and recast the sparkling young Rosalie Rayner, scientist and thinker, as Mrs. John Watson, wife and conflicted, maligned mother, just another "woman behind a great man."

With Behave, Andromeda Romano-Lax offers a provocative fictional biography of Rosalie Rayner Watson, a woman whose work influenced generations of Americans, and whose legacy has been lost in the shadow of her husband's. In turns moving and horrifying, Behave is a richly nuanced and disturbing novel about science, progress, love, marriage, motherhood, and what all those things cost a passionate, promising young woman.
This book was sent to Compass Book Ratings for review by Soho Press, Inc.
Behave
by Andromeda Romano-Lax
Overall Review:
John B. Watson. Does the name ring a bell? No? Not for me either. Turns out he was a pretty important guy though, and if I were born in the late 1920's, there is a good chance he may have influenced how I was raised. Why? Because John Watson decided that he knew how to raise children in a way that would benefit them the most.
Behave isn't just about Mr. Watson. It is also very much about his wife, Rosalie Rayner. She began as a lowly nurse who assisted Mr. Watson in his tests and studies of children. She quickly moved to a much higher position both in the hospital where she worked and in John Watson's life. This book tells of how one woman who is smart, loving and strong becomes overshadowed by her husband's power.
It was obvious to me that Rosalie wanted to please Mr. Watson, but there is a fine line between what a person is comfortable with and the lengths they will go to please another individual. I think what started out as a steady job for Rosalie became something so much more later on in her life, when she was saddled with two children and a ring on her finger that belonged to James Watson himself. I really enjoyed this book and felt I learned some history while I read it without becoming bored in the least.
Review of an Advance Reader Copy
Content Analysis:
Profanity/Language: 3 mild obscenities; 1 derogatory name.
Violence/Gore: Babies are mentioned to have died from natural causes; a man punches another man in a fight; war and death is mentioned; a suicide attempt it mentioned; a man collapses in a field and his family is worried about him; a character is mentioned to die from a disease; a baby is reported to have died from an illness.
Sex/Nudity: A man is mentioned to be attracted to a woman he works with; a woman is mentioned to undress in a non-sexual scene; a woman walks in on co-workers having illicit sex in one brief non-descriptive scene; a husband is implied to be unfaithful to his wife; a marriage is referred to as "sexless"; a woman is referred to as "loose"; a man mentions wanting to make love to a woman he is not married to; a brief imagined scene is mentioned with touching of breasts and kissing; a brief (1/2 page) scene is portrayed with a man watching a woman undress in a sexual way; having sex in a vehicle is referred to; a man and woman kiss passionately; a man is mentioned to walk around his house nude in a non-sexual way; a woman nurses a baby in public; a woman has sex with a stranger in one brief non-descriptive scene; affairs are mentioned.
Mature Subject Matter:
Political controversy, suicide, loss of a a loved one, personal crises, divorce, infidelity/affairs, marital affairs.
Alcohol / Drug Use:
Bourbon, gin, rum, and whiskey are drunk in different scenes; cigarette smoke is mentioned to be smelled.
Reviewed By Lydia