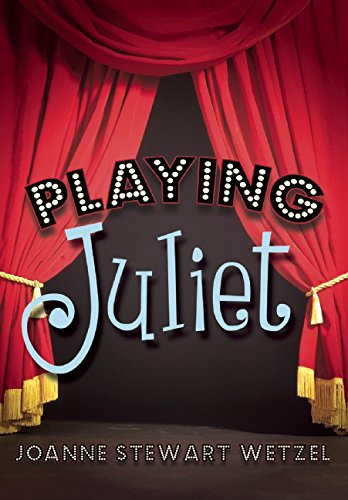 Publisher's Note:
Beth Sondquist, age twelve and a half, dreams of playing the part of Juliet. For now she's just the cat in Cinderella, but one day, she's determined to become a real actress. But all her hopes for an acting career come crashing down when the Oakfield Children's Theater is slated to be closed. Its new owner has decided to make it into an adult theater, a real theater. Beth and her best friend, Zandy, are willing to do whatever it takes to save the theater, but their plans quickly go awry. When Beth's father catches her sneaking back into her bedroom window well past bedtime, Beth is in big, big trouble.

With eviction looming, the children's theater director decides to close the theater with the same play the theater opened with fifty years ago—Romeo and Juliet. But Beth's grounded for the next two weeks, and she won't be able to try out. How will Beth pull off playing Juliet if she can't even make tryouts?

Playing Juliet is funny and honest and celebrates bravery and doing the right thing even when it gets you into trouble. It's about having the courage to go after what you want and making your dreams come true. It's also about friendship and family. As an almost-thirteen-year-old, Beth has a unique bond with thirteen-year-old Juliet, and she eventually recognizes just how silly and immature Juliet's decisions are. Only Beth can play Juliet as the kid that she is. With a little bit of luck, maybe she'll get her chance.
This book was sent to Compass Book Ratings for review by Sky Pony Press
Playing Juliet
by JoAnne Stewart Wetzel
Overall Review:
"By the pricking of my thumb, something wicked this way comes…" Beth isn't sure why a line from Shakespeare's most cursed play keeps running in her head on opening night, but she's sure it spells disaster for the production of Cinderella! When the show goes off without a hitch Beth thinks she's in the clear, until she finds out that something even worse is about to happen: her beloved children's theater is going to be shut down! How can she achieve her dream of playing Juliet if the theater closes?
Playing Juliet by Joanne Stewart Wetzel is a delightful, fast-paced story. Wetzel creates a truly authentic world back stage. Her use of realist theater rules, regulations, and even superstitions all combine to provide a taste of what actually does go on in a production. Beth and her best friend Zandy are extremely likable and relatable characters whose differences in "theatrical style" give the reader a wonderful contrast as well as a glimpse into the two separate, yet intertwined, types of theater young people are drawn to. And, while most of the story revolves around the world of the theater, Wetzel does a beautiful job of creating well-rounded leading characters by incorporating a strong supporting cast of players and overlaying everyday issues like family expectation and dynamics.
As a reviewer whose background is firmly set in theater, I thoroughly enjoyed Playing Juliet. It is a story that speaks to the dreamer inside everyone, and the reader can't help but cheer Beth on, even through her mistakes. Playing Juliet is a fabulous read about fighting to make your dream come true.
Content Analysis:
Profanity/Language: None

Violence/Gore: Character pricks thumb on a thorn; character worries about scenery falling; reference to patron passing; character hits another character with a pillow; character trips; sounds of stage fighting; a few references to Romeo and Juliet dying; character falls off stairs.
Sex/Nudity: Friends hug; 1 kiss on the nose; 4 kisses in the context of a play; young couple in a picture hold hands.
Mature Subject Matter:
Divorce, parental expectations, consequences, responsibility.
Alcohol / Drug Use:
None
Reviewed By Amberle