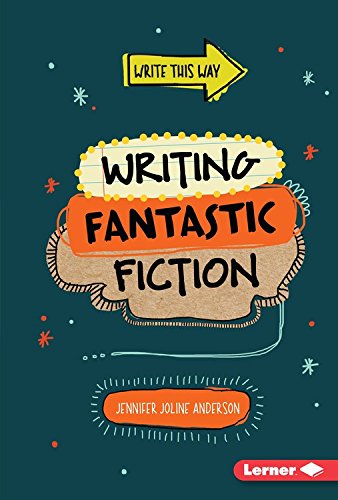 Publisher's Note:
Want to write a fantastic work of fiction? Sometimes getting started is the hardest part. This book takes you through the steps of writing a story from beginning to end. Learn how to gather inspiration and develop a story's characters. Then visualize and organize your story's plot with a writing map. And after you've written a really rough draft, check out tips for revising your work. You'll also be inspired by unique writing exercises and storytelling insights from popular authors. Whether you want to write a puzzling mystery, a lighthearted romance, a dark sci-fi epic, or a tale that borrows from your own life, a blank page can be the starting point for a powerful story. This book supports students in achieving many English Language Arts writing requirements, including Common Core State Standards.
This book was sent to Compass Book Ratings for review by Lerner Classroom
Writing Fantastic Fiction
by Jennifer Joline Anderson
Overall Review:
Step on up and come write this way to learn the basics of writing fiction in Jennifer Joline Anderson's, Writing Fantastic Fiction. A great introductory book for adolescents who are keen to discover useful techniques to help them devise a story. So, what can the reader expect?
"You'll also discover advice on gathering story ideas and developing characters, a setting, and a plot. And you'll move from writing a rough draft to editing, revising, and perfecting your story. You'll even find advice and examples from master writers along the way"
With a splashy design, colorful typography, and pictures, the book feels fun. The visually dynamic layout of photos and quotes by relevant authors contributes to the engagement of a more youthful reader. This formation is an intuitive part of the book, as it breaks up the informational tone and adds the flair a younger audience may crave.
Ms. Anderson really likes to jam-pack this short book with a lot of references to famous authors and novels, which can feel a little overwhelming at times. However, the "name dropping" may enlighten those who are less familiar with some of these popular works of fiction, so hopefully it's not too redundant.
A rudimentary look into what it takes to write fiction, this brief book covers a lot, but does not delve deep into any one particular set skill on how to facilitate fantastic fiction. This makes it a good starting point for a novice who is ready to pursue their fictional debut.
Content Analysis:
Profanity/Language: 1 mild obscenity.
Violence/Gore: Character shoves another character, described as a "bully"; threat of being cut.
Sex/Nudity: Reference to writing romance; holding hands.
Mature Subject Matter:
None
Alcohol / Drug Use:
Reference to a novel that deals with alcoholism.
Reviewed By MaryLou