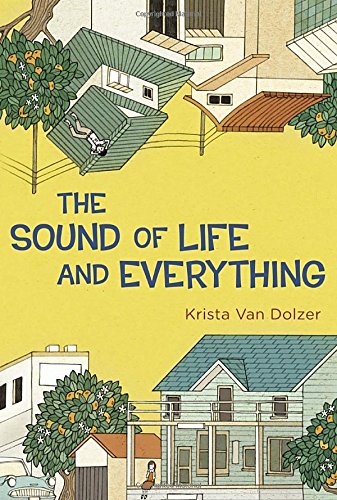 Publisher's Note:
A fascinating speculative historical fiction debut set in 1950s California—perfect for fans of When You Reach Me.

Twelve-year-old Ella Mae Higbee is a sensible girl. She eats her vegetables and wants to be just like Sergeant Friday, her favorite character on Dragnet. So when her auntie Mildred starts spouting nonsense about a scientist who can bring her cousin back to life from blood on his dog tags, Ella Mae is skeptical—until he steps out of a bio-pod right before her eyes.

But the boy is not her cousin—he's Japanese. And in California in the wake of World War II, the Japanese are still feared and despised. When her aunt refuses to take responsibility, Ella Mae and her Mama take him home instead. Determined to do what's right by her new friend, Ella Mae teaches Takuma English and defends him from the reverend's talk of H-E-double-toothpicks. But when his memories start to resurface, Ella Mae learns some shocking truths about her own family and more importantly, what it means to love.
The Sound of Life and Everything
by Krista Van Dolzer
Overall Review:
I'm not typically into books about America during World War II. I'd much rather read about the ways those in the prison camps survived, or Anne Frank. But for some reason this book called to me. I started reading it and was a little bit shocked at how liberally the author sprinkled her imagination throughout this book. (Shocked in a good way, mind you.) I hadn't even reached the second chapter, and I could already tell that this book wasn't totally based on scientific fact.
I can't imagine what it would be like to lose a family member in a tragic accident, much less in a war overseas. But Ella Mae Higbee doesn't have to imagine, she is living through it every day. I found myself quite proud of Ella Mae, when she took the opportunity to welcome someone into her life that was foreign and a bit taboo in her corner of America. I applaud this fictional character for looking beyond stereotypes and accepting someone into her life that would typically scare her.
Although this book is geared toward children and middle-schoolers, I found myself enjoying it immensely. It has just the right mixture of science, fact, and fiction to keep the mind occupied and entertained. Family conflict, science, and girlhood collide in this imaginative novel that is just begging to be read.
Content Analysis:
Profanity/Language: None
Violence/Gore: Blood is mentioned to be seen on a dog tag; a minor recalls hearing that a close relative had died in a war; a war is mentioned and killing is mentioned; several brief scenes when death is talked about (family members); a young girl imagines what a war might be like and death; racism and bullying occurs among minors and adults; a man is so ill he coughs up blood.

Sex/Nudity: A man is seen by a minor and her mother, he is nude in this non-sexual scene; two unmarried adults kiss.
Mature Subject Matter:
Death, death of a family member, war, racism, bullying, scientific ethics, personal crises.
Alcohol / Drug Use:
Adults drink brandy.
Reviewed By Lydia