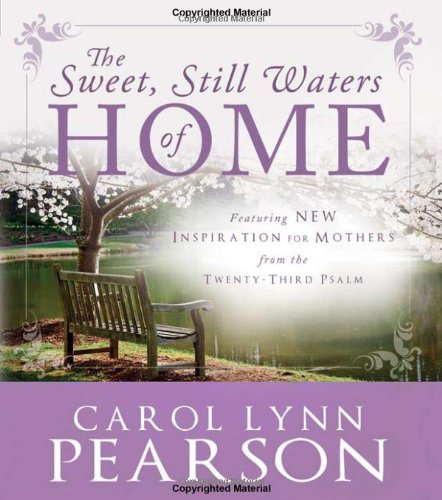 Publisher's Note:
Whether she has an infant in her arms or a strong hand in her wrinkled palm, a mother's work is never done. So this Mother's Day, give the women in your life a true treasure with this tender collection of poetry from beloved author Carol Lynn Pearson. Inspirational and uplifting, it's the perfect way to show them your love and gratitude for their divine work.
This book was sent to Compass Book Ratings for review by Cedar Fort
The Sweet, Still Waters of Home
by Carol Lynn Pearson
Overall Review:
The Still, Sweet Waters of Home is a contemporary and multi-layered look at the 23rd Psalm. Each line of the psalm is ingeniously made into the title of a poem. Every poem is a continuing message from a mother to her child (or children); it begins with background information on how a shepherd treats his sheep, then continues with how the mother treats, or wishes to treat, her child. I found it very calming and sweet. Even though some of the aspects of the poetry are a bit 'cheesy' (does 'partially hydrogenated vegetable oils' really belong in a poem?), it does in the end serve its purpose: A gentle reminder to mothers that we are shepherds to our children while still relying on The Shepherd. This is a lovely little treasure that you can pick up and peruse at any time just to keep yourself on track, or give as a gift for a mom-to-be.
Content Analysis:
There is nothing at all unclean in this little book. The only reason I put a mild mature theme is due to the fact that the whole theme of this book is mothers caring for their children. It would probably not be overly interesting to a younger crowd. If they're interested, there's no reason they shouldn't read it (content-wise),
Mature Subject Matter:
***
Alcohol / Drug Use:
***
Reviewed By Emily