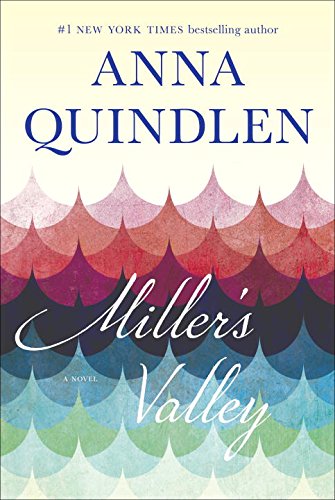 Publisher's Note:
Filled with the insight that is the hallmark of Anna Quindlen's beloved bestsellers, this extraordinary novel is about a woman coming of age as she unearths surprising secrets about her family—and unexpected truths about herself.

"No one ever leaves the town where they grew up, even if they go," says Mimi Miller as she tells the story of her life, from the 1960s to the present, in a small American town on the verge of upheaval. The Miller family has lived and farmed in Miller's Valley for generations, but Mimi sees change looming at the corners of her community and within the walls of her home.

As she grows up and discovers sex, love, and ambition, the people in her world who have seemed forever bound together begin to drift apart: Mimi's mother, from her reclusive sister, Ruth; Mimi's damaged brother Tommy, from his family and son; and even the townspeople, menaced by the lingering presence of government officials. As Mimi looks back on the past, she comes to understand that her family and the town itself might always have been destined to disappear.

Anna Quindlen's stunning new novel is a masterly study of family, memory, loss, and, ultimately, discovery and finding home. Miller's Valley reminds us that the place where you grew up can disappear, and the people in it too, but all will live on in your heart forever.
This book was sent to Compass Book Ratings for review by Random House
Miller's Valley: A Novel
by Anna Quindlen
Overall Review:
I have long been a fan of Anna Quindlen. Something about her writing style just satisfies me in a way that other authors' books don't. The covers of her books are usually quite beautiful, but I think this one is the prettiest so far. If the cover and the author don't convince you to read this book, I hope my review will sway you.
Recently it seems I have read quite a few books about owned land and water and the government controlling the land. Obviously, the people who own the land are unhappy that the government is trying to take away something they own, and they fight back. This book is a little more sophisticated than the last book I read with this situation, but the same idea is still the main theme...corruption.
The characters in Miller's Valley were pleasant and relatable. I found myself immersed in the story immediately, and I had a hard time putting this book down. Mimi Miller may be the protagonist of this story, but I was also pleased that Ms. Quindlen included the tales of the rest of the Miller family members. The story jumps around some as far as timeline goes, but isn't too hard to keep straight. Miller's Valley is a book about growing up, but it is also a story of family, love, friendship, and hope.
Review of an Advance Reader Copy
Content Analysis:
Profanity/Language: 5 religious exclamations; 11 mild obscenities; 1 religious profanity; 3 derogatory names; 4 scatological words.
Violence/Gore: A character is reported to have drowned in a canoe; a near fatal accident is mentioned to occur; a report is made of a character beating someone up; verbal threats are made; a heart attack is mentioned to have killed a character; a minor is mentioned to hang themself.
Sex/Nudity: A minor girl is mentioned to be pant-less in a nonsexual scene; a minor boy is mentioned to try to "feel" someone up; kissing occurs between adults; a woman is mentioned to have a baby out of wedlock; losing virginity is mentioned; a character is mentioned to smell of sex; a character talks about having sex; a woman is mentioned to have an unwanted pregnancy, and having an abortion is implied; a woman walks in on an adult couple having sex, no explicit details are given; a minor is mentioned to be sexually active; a sex scene in a book is mentioned.
Mature Subject Matter:
Death, suicide, divorce, cancer, corruption.
Alcohol / Drug Use:
A minor is mentioned to be driving while having beer in the car; a character smokes a cigarette; a character is mentioned to drink gin.
Reviewed By Lydia