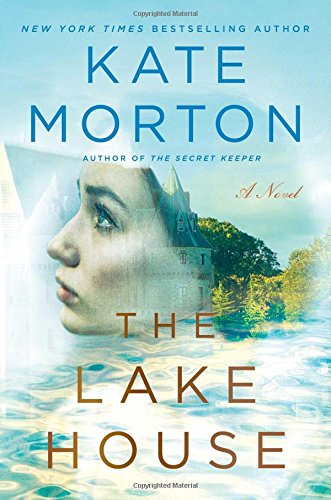 Publisher's Note:
From the New York Times and internationally bestselling author of The Secret Keeper and The Distant Hours, an intricately plotted, spellbinding new novel of heartstopping suspense and uncovered secrets.

Living on her family's idyllic lakeside estate in Cornwall, England, Alice Edevane is a bright, inquisitive, innocent, and precociously talented sixteen-year-old who loves to write stories. But the mysteries she pens are no match for the one her family is about to endure…

One midsummer's eve, after a beautiful party drawing hundreds of guests to the estate has ended, the Edevanes discover that their youngest child, eleven-month-old Theo, has vanished without a trace. What follows is a tragedy that tears the family apart in ways they never imagined.

Decades later, Alice is living in London, having enjoyed a long successful career as an author. Theo's case has never been solved, though Alice still harbors a suspicion as to the culprit. Miles away, Sadie Sparrow, a young detective in the London police force, is staying at her grandfather's house in Cornwall. While out walking one day, she stumbles upon the old estate—now crumbling and covered with vines, clearly abandoned long ago. Her curiosity is sparked, setting off a series of events that will bring her and Alice together and reveal shocking truths about a past long gone...yet more present than ever.

A lush, atmospheric tale of intertwined destinies, this latest novel from a masterful storyteller is an enthralling, thoroughly satisfying read.
The Lake House
by Kate Morton
Overall Review:
This review must start with a confession: I adore Kate Morton's books. Ms. Morton is on the very, very, very short list of authors whose work I watch for with much anticipation--and that I am willing to sacrifice sleep for. While I am not a mystery fan, historical fiction fan, or a romance fan per se, her stories have elements of all these genres. She beautifully tangles her stories, misleads her reader, crreates multiple storylines, and lays false trails to create an enticing narrative. Readers who are not a fan of alternating voices/viewpoints hopscotching through time should give this book a wide berth. Ms. Morton uses these techniques to obscure the real story and to keep the reader guessing. Another benefit of these techniques is the ability to humanize all the characters. Once the reader knows the characters, there are few true villains among them, and many human beings with motivations and feelings that a reader will find chillingly believable.
There is a slight rush at the novel's end with conclusions deduced quite quickly relative to the previous pacing of the book and some ends were tied up not with a bow, but with a tight knot that was perhaps unnecessary and maybe a quarter-step too far. A few elements felt like a bit of a "reach". However, with its splendid characterization and first-rate writing, The Lake House lives up to Ms. Morton's previous works. She knows her craft. Highly recommended!
See other reviews of Ms. Morton's books: The Secret Keeper, The Distant Hours, The Forgotten Garden, The House at Riverton
Content Analysis:
Profanity/Language: 20 religious exclamations; 11 mild obscenities;1 derogatory name; 5 scatological words; 1 anatomical term. Note: English profanity such as "bloody" not tallied.
Violence/Gore: Report of injury in war; disappearance of a child; references to WWI and WWII with reports of death, general description and non-detailed; report that a parent was killed by a vehicle; report of suicide; report of a stillborn; there is discussion of murder plots, methods, etc. in fictional murder mystery books; implication that parents suggested teenage daughter have an abortion; character scrapes knee on rocks; character's admission of murder; destruction from bombs observed; theories of real-life murder/foul play hypothesized.
Sex/Nudity: Implication that a wedding had to be moved forward; reference that a character had "lovers"; innuendo; characters kiss; mention of a "drunken fumble"; references to infidelity; inference that a young girl came accidentally upon a couple making love; statement that a teenager was pregnant out-of-wedlock; reference to love affairs; reference/report a married individual has affair that results in a pregnancy; adults kiss; 16 year-old girl initiates a kiss with a man 10 years her senior.
Mature Subject Matter:
Death of family members, murder, infidelity, treason/desertion, PST/shell shock, WWI, WWII, kidnapping, teenage pregnancy, adoption, child abandonment.
Alcohol / Drug Use:
Adult smokes pipe; adults drink and smoke socially; adults drink beer in a pub; overdose of drugs involved in a death.
Reviewed By Cindy