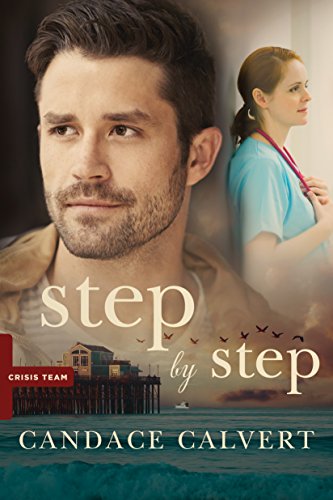 Publisher's Note:
Three years after a tragic accident left her a widow, ER nurse Taylor Cabot is determined to move on, checking off one item after another on her survival list. Her relationship with a handsome plastic surgeon even gives her hope for the last point?"fall in love again." At least until crisis chaplain Seth Donovan steps back into her life, reawakening unanswered questions about her husband's death.

While in San Diego to train community volunteers, Seth hopes to learn why Taylor is backing away from the crisis team and from their friendship. But nothing prepares him for the feelings that arise when he sees Taylor again . . . and sees her moving on with another man.

When a community crisis hits home and puts lives at risk, emotions run high and buried truths are unearthed. Will hope make the survival list?
This book was sent to Compass Book Ratings for review by Tyndale House Publishing
Step By Step
by Candace Calvert
Overall Review:
Step By Step penned by Candace Calvert is the second installment of the Crisis Team series. Although the story is a standalone, the characters appear in the previous book. The story stems from people facing great personal challenges and relying on God to help them overcome. Those familiar with the author will find she leaves a few stories untold which she mercifully tells in other books. Hopefully that trend will continue with this series.
Candace Calvert does a nice job of blending medical speak with readable stories. She does not always give every character a happily ever after type ending. Calvert has a way of drawing people into the lives of her characters and really getting the reader to care about what happens.
There is certainly a bit of romantic tension, but it is not the central focus of the story. Romantics and medical fiction lovers will enjoy this read, but be warned, there are some emotionally intense scenes. Overall it is an enjoyable read, and the new cover style for this book adds to its appeal.
Review of a digital Advance Reader Copy
Content Analysis:
Profanity/Language: None
Violence/Gore: Several references to people being shot or tasered; report of person shooting others and then himself; an airplane crash which injures some, blood mentioned, but not described; report of a person attempting to drown kittens; characters involved in a multi-car accident; person wants to grab another.
Sex/Nudity: Report of a married character patting backside of spouse; person implies a child was assaulted by a parent; memories imply sexual assault on a child, but no details; non-married characters embrace, hold hands and kiss; mention of a character having an affair.
Mature Subject Matter:
Death of spouse/parents, child abuse, alcoholism.
Alcohol / Drug Use:
Adult character is an alcoholic and often consumes tequila, whiskey and other liquor to the point of inebriation; report of an adult giving liquid to a child that will "loosen her up."
Reviewed By Susan