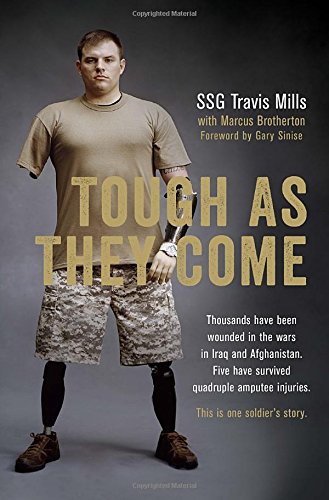 Publisher's Note:
Thousands have been wounded in the wars in Iraq and Afghanistan. Five have survived quadruple amputee injuries. This is one soldier's story.

Thousands of soldiers die year to defend their country. United States Army Staff Sergeant Travis Mills was sure that he would become another statistic when, during his third tour of duty in Afghanistan, he was caught in an IED blast four days before his twenty-fifth birthday. Against the odds, he lived, but at a severe cost—Travis became one of only five soldiers from the wars in Afghanistan and Iraq to survive a quadruple amputation.

Suddenly forced to reconcile with the fact that he no longer had arms or legs, Travis was faced with a future drastically different from the one he had imagined for himself. He would never again be able to lead his squad, stroke his fingers against his wife's cheek, or pick up his infant daughter.

Travis struggled through the painful and anxious days of rehabilitation so that he could regain the strength to live his life to the fullest. With enormous willpower and endurance, the unconditional love of his family, and a generous amount of faith, Travis shocked everyone with his remarkable recovery. Even without limbs, he still swims, dances with his wife, rides mountain bikes, and drives his daughter to school.

Travis inspires thousands every day with his remarkable journey. He doesn't want to be thought of as wounded. "I'm just a man with scars," he says, "living life to the fullest and best I know how."
This book was sent to Compass Book Ratings for review by Convergent Books
Tough As They Come
by SSG Travis Mills
Overall Review:
"It's amazing what you can accomplish once you make that all-important decision to go forward"
Tough as They Come is the inspirational autobiography of United States Army Staff Sergeant Travis Mills. Mills is extremely likable, and his narrating style is direct, yet pleasant and conversational. The book briefly touches on Mills' childhood before launching into his millitary service and subsequent deployments. Despite the serious subject matter, Mills allows his sense of humor to shine through and includes lots of funny lines in the book. Those unfamiliar with the military will appreciate the straightforward explanations of army life as well as observations about the Taliban. Mills talks openly about his injury, emotions, and the difficult rehabilitation process. Tough as They Come is a fantastic, highly recommended motivational read!
Review of Advance Reader Copy
Content Analysis:
Profanity/Language: 4 religious exclamations, 6 mild obscenities, 1 anatomical term, 2 derogatory names.
Violence/Gore: Multiple secondhand reports of violence involving IEDs, shootings, terrorist attacks, using kids as suicide bombers or human shields, and bombings; multiple brief scenes of violence including children punching other children, spanking, IED explosion, a character punching a truck, a character accidently punching self in the face and a character throwing and destroying items; a few extended scenes of violence involving shootings; several non-detailed scenes of violent death involving 9/11, a suicide bomber, IEDs, drowning, day and/or night combat missions against the Taliban, the Taliban shooting a man pointblank; a few scenes of blood and gore including characters picking up body parts after an explosion, and the narrator describing his graphic injuries; several extended (multiple pages) scenes of intense violence including characters accidently setting off an IED and losing limbs, as well as multiple firefights with the Taliban.
Sex/Nudity: Several incidents of kissing; a man's pants rip, exposing his genitals; a few sexual references and an implied incident of sexual activity.
Mature Subject Matter:
War and trench warfare, terrorism, suicide bombers and IEDs, death of family members and friends, "Don't ask, don't tell" United States military policy, thoughts of suicide, drug trade.
Alcohol / Drug Use:
A man is drunk and starts a fight; several people drink on occasion; descriptions of the Taliban as a "drug cartel" and their selling of opium; Taliban fighters described as being "hopped up" on heroin; soldiers smoke cigarettes after a combat mission; several landmarks are given the nicknames of beer brands; an individual is given narcotics to deal with pain.
Reviewed By Rachel