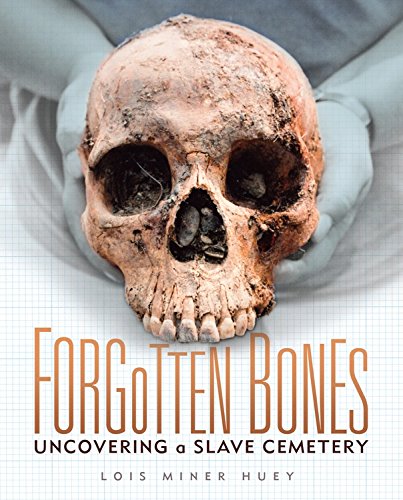 Publisher's Note:
When a skeleton's head rolled off a dirt pile, all work came to a halt at a construction project in upstate New York. Archaeologists began excavating and found thirteen skeletons. Further investigation revealed that the bones were those of eighteenth-century African American slaves who had worked at the nearby Schuyler farm. Find out what these skeletons tell us about slavery and daily life long ago.
This book was sent to Compass Book Ratings for review by Millbrook Press
Forgotten Bones: Uncovering a Slave Cemetery
by Lois Minor Huey
Overall Review:
History meets science in Lois Miner Huey's, Forgotten Bones: Uncovering a Slave Cemetery. A well-documented, engaging work of non-fiction, Huey introduces readers to an authentic slave cemetery accidentally unearthed in Albany, New York in 2005.
Written in third person with a few first person accounts, Huey easily encompasses readers' attention with informative yet accessible descriptions that will help ease the less knowledgeable or younger readers into the process of archaeology.
Respectfully written, the book follows the exhumed skeletons from discovery, excavation, bone study, facial reconstruction, and eventually to their final resting place.
Colored photos from the actual dig and proceeding events, as well as photocopies of historical documents add depth to the text. This essential element invokes feelings of respect for the deceased, sensitivity for the time period, and admiration for the modern day scientists involved in this particular work.
At the conclusion, the author helps readers further explore this particular topic by adding resourceful material such as a glossary of terms, a bibliography, and books and websites to further investigate.
Forgotten Bones: Uncovering a Slave Cemetery would be a wonderful addition to any elementary or middle school aged child's school or home library, especially those who are interested in history and/or archaeology.
Content Analysis:
Profanity/Language: None
Violence/Gore: Discovery of skull; brief mention using the word punishment implying violent action (2x); harsh treatment including heavy labor and malnutrition leads to early demise; extended scene (about 1 paragraph) reports of severe beatings resulting in death(s); brief mention of whipping; notification that some slaves took violent actions in order to resist and escape; painted picture of human being burned alive with brief caption; extended report (about 1 page) of arson and unjust actions of accused including execution.
Sex/Nudity: None
Mature Subject Matter:
Death/early demise, slavery/unjust treatment.
Alcohol / Drug Use:
A few mentions of the use of tobacco.
Reviewed By MaryLou