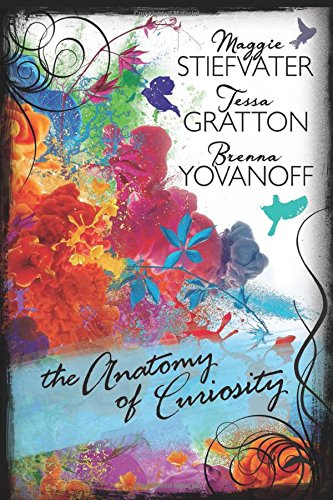 Publisher's Note:
The follow-up to the acclaimed novel The Curiosities: A Collection of Stories by Maggie Stiefvater, Tessa Gratton, and Brenna Yovanoff.

In an unassuming corner of Brooklyn, a young woman learns to be ladylike, to love context, and to speak her mind from a very curious sort of tutor.

In a faraway land convulsed by war, a young soldier hears the desert's curious hum as he disarms bombs with the person he doesn't know how to love.

In a place so shriveled by drought that any drowning is a curiosity, a young writer tries again and again to tread water beneath the surface of a vast and unusual sea.

Three new stories complete with commentary on the creative process from three acclaimed young adult authors working at the height of their powers.
This book was sent to Compass Book Ratings for review by Carolrhoda Books
The Anatomy of Curiosity
by Maggie Stiefvater, Brenna Yavanoff, Tessa Gratton
Overall Review:
Pegged "The Merry Sisters of Fate", acclaimed young adult authors Maggie Stiefvater, Tessa Gratton, and Brenna Yovanoff come together for their second book in their Curiosities series, The Anatomy of Curiosity (Curiosities #2).
Known for their edgy supernatural tales, this novel is a stand-alone reference for aspiring writers, or an added bonus for fans/readers to add to their collection. The Anatomy of Curiosity is a behind the scenes guided tour into the creative writing process. A show and tell of sorts into each writers' unique thought process of writing fiction.
"We wanted to write a book that showed the answers to the questions. Instead of making the answers theoretical, we wanted a book that would demonstrate how we made our creative decisions, solved problems, and brought an idea from spark to bonfire."
Each author takes a concept of developing fiction and creates a novella to demonstrate their process of writing. In this instance, Striefvater focuses on characterization, Gratton world building, and Yavanoff variations of one idea. Within the novella are footnotes, the authors POV on the proceedings and what their thinking at that moment. If the novella is the stew, the footnotes are the spices that really add insight and expand the readers reference, not only to the story but to the author's personality as well.
Don't like how the author developed that particular story, or where that idea led? GREAT! That's what is awesome about being a writer. You can change it, make it a story you would read, make it yours! Take what doesn't work and transform it into something that does. The world is quite literally at your fingertips.
A flavorful simmer of paranormal fantasy with instructional flash thoughts from the authors, The Anatomy of Curiosities helps quell the desire for the how-to when it comes to writing, as well as entertains readers quest to know more about these admired young adult authors. Bon appétit!
Content Analysis:
Profanity/Language: 6 religious exclamations; 4 mild obscenities; 5 scatological words; 7 anatomical terms. Note: Implication of obscenity used with letters and asterisks not tallied.
Violence/Gore: Secondhand report of prostitutes hired to inflict pain upon recipient; mention of witnessing an animal hit by a car; character comically hits another character with an object; mention of killing to eat/sustain life; implication that character is suicidal; extended scene (about 2 paragraphs) destruction and massacre caused by bomb; extended scene (about 1 page) character has a memory of being an efficient soldier/killing/destroying; extended second hand report (about 1 page) or killing, dying, and injury; brief memory of violent killing; implication of violent death; scene (about 1 paragraph) non-detailed violent death; slightly gory murder; report of injuries and death; secondhand report of death and destruction; explosion causes destruction and injuries; secondhand report of death (3x) - 1 suicide, 2 accidental; character punches object causing injury to hand, mention of blood; somewhat creepy scene character discovers body.
Sex/Nudity: Secondhand report of prostitutes hired to inflict pain upon recipient; 2 cat calls made to female; comment on concubine; brief non-sexual nudity; author mentions romance and kissing; implications of sexual relations, both homosexual and heterosexual; mention of female's breasts; non-sexual mention of character being undressed; characters touch hands intimately; character has sexual/romantic thoughts; kiss on cheek; character has romantic thoughts and desires; extended descriptive scene (about 2 paragraphs) male kisses character who he thinks is female; female admits to being born a male (transgender); extended scene (about 3 pages) character describes being born a male but living and acting as a female, has sexual desires for male character; transgender and male character kiss (2x); transgender male caresses male character's face; mention of homosexuality within culture; extended scene (about 1 page) transgender male voices desire to be sexually intimate with male character; character admits to being a virgin; characters kiss (somewhat creepy); report of teen male character making out with other girls; teen male and female sit on lap, play with hair; sexual reference, "doing it"; 2x admitting to kiss; comment on character reading about a kiss; teen characters kiss.
Mature Subject Matter:
Killing to sustain life, war, bombs, gender identity/transgender/homosexuality/same gender attraction, drowning, paranormal aspects.
Alcohol / Drug Use:
Mention of alcoholism; characters drink wine; mention of wine and other liquors consumed in celebration; few (less than 10) of teen characters doing drugs, smoking cigarettes, and consuming alcohol.
Reviewed By MaryLou