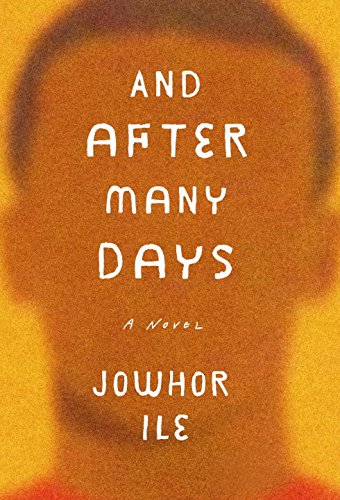 Publisher's Note:
An unforgettable debut novel about a boy who goes missing, a family that is torn apart, and a nation on the brink

During the rainy season of 1995, in the bustling town of Port Harcourt, Nigeria, one family's life is disrupted by the sudden disappearance of seventeen-year-old Paul Utu, beloved brother and son. As they grapple with the sudden loss of their darling boy, they embark on a painful and moving journey of immense power which changes their lives forever and shatters the fragile ecosystem of their once ordered family. Ajie, the youngest sibling, is burdened with the guilt of having seen Paul last and convinced that his vanished brother was betrayed long ago. But his search for the truth uncovers hidden family secrets and reawakens old, long forgotten ghosts as rumours of police brutality, oil shortages, and frenzied student protests serve as a backdrop to his pursuit.
In a tale that moves seamlessly back and forth through time, Ajie relives a trip to the family's ancestral village where, together, he and his family listen to the myths of how their people settled there, while the villagers argue over the mysterious Company, who found oil on their land and will do anything to guarantee support. As the story builds towards its stunning conclusion, it becomes clear that only once past and present come to a crossroads will Ajie and his family finally find the answers they have been searching for.
And After Many Days introduces Ile's spellbinding ability to tightly weave together personal and political loss until, inevitably, the two threads become nearly indistinguishable. It is a masterful story of childhood, of the delicate, complex balance between the powerful and the powerless, and a searing portrait of a community as the old order gives way to the new.
This book was sent to Compass Book Ratings for review by Tim Duggan Books
And After Many Days: A Novel
by Jowhor Ile
Overall Review:
I typically don't read many books about foreign countries, mostly because I just can't relate. (Perhaps one of my New Year's resolutions should be to broaden my reading horizons.) Although I couldn't relate much to this book, it was good, but it was a also a little confusing. This is one of those books that jumps around a lot, so I had to really focus while I was reading. The chapters didn't really tell you where you were in the timeline of the story, so I could never tell where exactly I was at.
I was unsure what this book was about when I started it, but after reading it, I think I have some answers. And After Many Days is a novel that I assume stems from the author's own experiences and concerns about his home country of Nigeria. The book focuses much on the aspects of family life, and how one family in Nigeria is affected by the upheaval that occurred in the 1990's. Fiction is a wonderful way to educate oneself about different cultures and times in history, without delving in too far. This book is a prime example of that.
The primary focus of this book is a young adult who goes missing, but that isn't the only subject that is approached. It also narrates how a family functions and navigates the issues that life throws at them throughout the years. This book holds a huge story in one slim volume. The author did a wonderful job of stuffing 200+ pages with years of the lives of one fictional family. Although I didn't love this book, I will definitely keep my eyes out for more from Jowhor Ile.
Review of an Advance Reader Copy
Content Analysis:
Profanity/Language: 4 religious exclamations; 3 scatological words.
Violence/Gore: A character is reported to have been shot in the head and killed; a minor goes missing; a verbal fight results in some physical violence; a bank robbery is reported to occur; a report is made of a pregnant woman being hit by a bus; a rifle is reported to have been put to a character's head and fired, killing the character; a character is mentioned to have died; a character is reported to kill buffalo; police attack a character and beat him, blood is mentioned to stain the ground; a plane crash occurs and relatives are feared to have died.
Sex/Nudity: A minor mentions sexual awakening and touching a house servant in a sexual way.
Mature Subject Matter:
Death, murder, personal crises, missing persons.
Alcohol / Drug Use:
Whisky and Guinness are drunk by adults.
Reviewed By Lydia