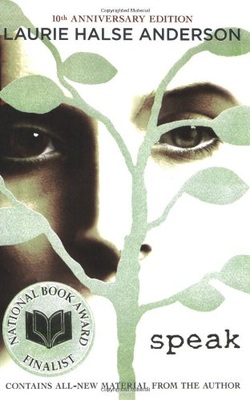 Publisher's Note:
Melinda Sordino busted an end-of-summer party by calling the cops. Now her old friends won't talk to her, and people she doesn't even know hate her from a distance. The safest place to be is alone, inside her own head. But even that's not safe. Because there's something she's trying not to think about, something about the night of the party that, if she let it in, would blow her carefully constructed disguise to smithereens. And then she would have to speak the truth. This extraordinary first novel has captured the imaginations of teenagers and adults across the country.
Speak
by Laurie Anderson
Overall Review:
Speak is an incredibly deep and emotional story that everyone should read. This novel will resonate with anyone who has ever dealt with depression or abuse. It also very accurately depicts teenage life and helps us understand and appreciate the traumatic things that all teenagers go through. I could not put this book down and found myself wishing that there was a sequel so that I could continue to read Melinda's story. Anderson's writing is meaningfully realistic and clear. Read this book. Period.
Content Analysis:
Writing a content review for "Speak" is a difficult task. "Speak" is not clean. Profanity is the only area in which this book is squeaky clean. Since this book's subject deals with rape and depression, there are alot of difficult scenes and situations. Anderson writes very carefully and realistically and intends only to help other teenagers who might be in similar situations.

A rape occurs. It is not glorified and there are not alot of details, but it does happen. Melinda deals alot of depression as she learns to cope with what happened to her. Her classmates make fun of her and the perpetrator taunts her. Near the end of the book she is attacked again but defends herself. Her family situation is not supportive and her parents and some teachers are rude to her. There are a few references to sexual acts.

Generally I couldn't recommend a book with ratings this high in sexuality, violence, and mature themes, but for "Speak" I make an exception. Please understand that this book is not a fluffy happy book. It is full of difficult and scary subjects. However, the writing is respectful, and the subject necessary.
Mature Subject Matter:
***
Alcohol / Drug Use:
***
Reviewed By SqueakyCleanReads