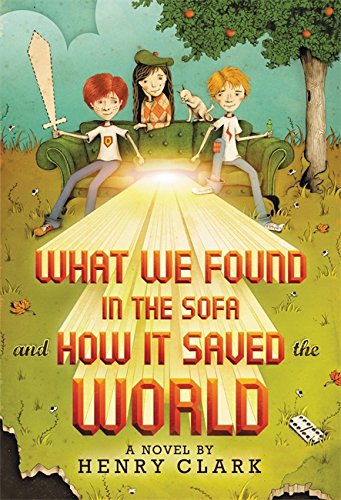 Publisher's Note:
The adventure of a lifetime begins between two sofa cushions....
When River, Freak, and Fiona discover a mysterious sofa sitting at their bus stop, their search for loose change produces a rare zucchini-colored crayon. Little do they know this peculiar treasure is about to launch them into the middle of a plot to conquer the world!
The kids' only hope is to trap the plot's mastermind when he comes to steal the crayon. But how can three kids from the middle of nowhere stop an evil billionaire? With the help of an eccentric neighbor, an artificially intelligent domino, a DNA-analyzing tray, two hot air balloons, and a cat named Mucus, they just might be able to save the planet.
This clever comic adventure from debut author Henry Clark is a truly original and utterly wacky story about the importance of intelligence and curiosity in a complacent world.
What We Found In the Sofa and How It Saved the World
by Henry Clark
Overall Review:
One would expect a novel with the title What We Found in the Sofa and How It Saved the World to be a little bizarre, which it was, but it was also a very entertaining and at times laugh-out-loud funny novel that was a pure joy to read. Author Henry Clark does a wonderful job at creating an intriguing mystery, with engaging and sometimes quirky characters, and with a plot that keeps you guessing and reading. There's mystery, a little drama, fantasy, and even aliens and a ghost all woven together in a way that not only makes sense and keeps the plot humming along, but is hilarious and witty.
Freak, River, and Fiona are more than just neighbors who are all 12 years old. They are friends that have all experienced loss in some way and have helped each other through it. Now they are confronted with a mysterious sofa that shows up at their bus stop, a zucchini colored crayon, Alf who is an eccentric old neighbor that is more than he seems, and a plot to overthrow the planet earth which has already started in their small town of Cheshire. All of these things tie in together somehow--even the losses that the three children have had to deal with throughout their lives. Each detail of the many things going on in this novel are integrated neatly, and the story really is one that is intriguing and will keep the reader guessing
What We Found in the Sofa and How It Saved the World by Henry Clark is a delightful read that truly did have me laughing out loud. Sometimes it was what the characters said, sometimes it was references to pop culture or trends, but all made the story enjoyable to read. You might end up fighting your kids over who gets to read the book first.
Content Analysis:
Profanity/Language: No real language, but a no man's land of sorts around the town is repeatedly referred to Hellsboro.
Violence/Gore: Secondhand account of parents having died in a car accident; character said to have died in a toboggan accident; secondhand account of character having been bullied and stuffed in a used clothing bin; accident that killed 2 people thought to have been intentional; ghost with axe chases 3 children; mention of using a child's body as a host for a deceased alien to inhabit; several characters are gassed with something that wipes their minds; one sentence description of how a werewolf kills a victim and eats it; mention of how someone's father had the person executed in the way of beheading; man who is drunk threatens his son verbally; mention of how no bruises could be seen on the person whose father threatened him; man grabs child and holds them around their neck and forcibly uses her as a shield to keep others from harming him; men hold children hostage at gunpoint; man grabs a child and throws him up against the wall; man forces a child to inhale a poisonous gas that renders him dead; boy hits another over the head with a chair knocking him out; characters fall their death.
Sex/Nudity: Girl kisses boy on the forehead; mention of boy being naked with no description (non-sexual).

Mature Subject Matter:
Death of parents, alcoholism, allusion to child abuse, ghosts, mind control, cloning.
Alcohol / Drug Use:
Adult drinks excessively to get drunk; man's avatar smokes a cigar; mention of alcohol being served at a party.
Reviewed By Sally