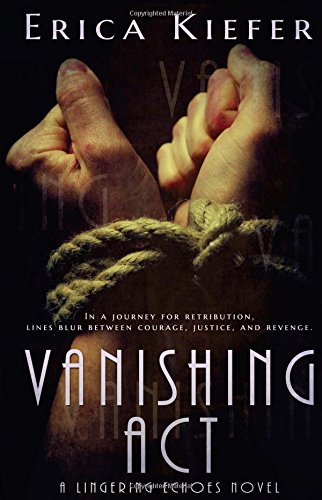 Publisher's Note:
A fresh start at college is exactly what Kate needs to ease the burden of her family secrets. When she meets the confident and charming Aaron Jackson, she weaves a new history for herself to fit into his seemingly perfect life. But the past refuses to stay where it belongs, causing a rift between their contrasting worlds.
When Ben reappears in Kate's life, she is only pulled deeper into the childhood that she's tried to forget. Driven by the abuse and pain that still lingers within him, Ben seeks Kate's help in making a change. But in this journey for retribution, lines blur between courage, justice, and revenge.
Bound by their shared and damaged youth, Kate is forced to choose sides, and fast. The final act is almost here, and time is running out.
This book was sent to Compass Book Ratings for review by Clean Teen Publishing
Vanishing Act
by Erica Kiefer
Overall Review:
Vanishing Act continues the Lingering Echoes Series, but the story follows Nick and Aaron as they return to college. Even though this book includes characters from the previous one, it easily stands alone. New characters enter the story--Josh and Ben, who are Nick and Aaron's roommates at school, and Kate, who is Josh's cousin. Friendships run deep and budding romances begin in this installment of the story. A major focus of the plot is children growing-up in broken homes and the various issues that are the cause and result of those homes (and some foster homes), such as physical and mental abuse as well as drug abuse, to name a few. Mingled in with the serious, less-than-ideal situations, author Erica Kiefer also brings us characters who have risen above their difficult lives and become stronger and better people in spite of it all. This story will provoke a vast range of emotions from the heartbreaking flashbacks to the tender relationships and even some suspenseful moments that will have the reader on the edge of their seat. I was looking forward to continuing this series and Kiefer didn't disappoint. She's an excellent writer who isn't afraid to delve into the deep subjects but also manages to make her stories uplifting.
Content Analysis:
Profanity/Language: Two scatological words.
Violence/Gore: Several (19) brief incidents including character lies about father dying; character jokes about wishing for death due to sickness; character imagines hitting another's arm with a rolling pin; character jokes about murdering someone; verbal threat; character wants to murder someone; secondhand reports of child abuse; reference to character in accident causing disability; reference to graffiti; secondhand report of mother of young child dying in a car accident; secondhand report of character dying of cancer; secondhand report of multiple acts of vandalism; secondhand report of character dying from drug overdose; character nearly dies from drug overdose; characters get knocked out from getting hit in the head.
Sex/Nudity: Many (36) brief incidents including flirting; squeezing hand; holding arm and hand; kissing; cuddling; references to characters "hooking up" but no further detail given to specify what that means; hugging; massaging shoulders; shirtless guy hangs out in his apartment (non-sexual); character is wearing pants that are low on waist and as he bends over he exposes "too much"; innuendo; reference to unwed girl being pregnant; female touches male character's chest.
Mature Subject Matter:
Neglectful parents, child abuse, parents abandoning their children, incarceration, cancer, children being starved by abusive caretaker, drug abuse.
Alcohol / Drug Use:
Reference to characters getting drunk and passing out; character steals children's medication and uses it to sell or get high; reference to partying that may or may not have included alcohol (not specified); drug dealing; smoking; marijuana use; character's parents do drugs; secondhand report of character dying from drug overdose; reference to characters doing drugs; character nearly dies from drug overdose.
Reviewed By Jenny