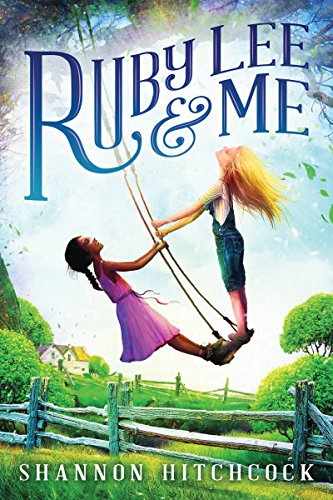 Publisher's Note:
Everything's changing for Sarah Beth Willis. After Robin's tragic accident, everyone seems different somehow. Days on the farm aren't the same, and the simple fun of riding a bike or playing outside can be scary. And there's talk in town about the new sixth-grade teacher at Shady Creek. Word is spreading quickly--Mrs. Smyre is like no other teacher anyone has ever seen around these parts. She's the first African American teacher. It's 1969, and while black folks and white folks are cordial, having a black teacher at an all-white school is a strange new happening. For Sarah Beth, there are so many unanswered questions. What is all this talk about Freedom Riders and school integration? Why can't she and Ruby become best friends? And who says school isn't for anybody who wants to learn--or teach? In a world filled with uncertainty, one very special teacher shows her young students and the adults in their lives that change invites unexpected possibilities.
This book was sent to Compass Book Ratings for review by Scholastic Press (A Scholastic Imprint)
Ruby Lee & Me
by Shannon Hitchcock
Overall Review:
Ruby Lee & Me by Shannon Hitchcock is a lovely and poignant novel on courage, overcoming fears, friendship, and love of family. Loosely based on events from the author's own life, she addresses the courage it took for those who personally experienced integration as well as the courage it takes to admit mistakes and ask for forgiveness. All set in the turmoil of the 1960s and in the South, the national events mirror the personal turmoil Sarah Beth is going through as she deals with her sister's life changing accident as well as her changing friendship with Ruby Lee.
Not only is Sarah Beth dealing with her sister's injuries but she is also dealing with the personal effects of racism and integration of the schools as her lifelong friend, Ruby Lee, an African American. All of this is a lot for a twelve-year-old to process, but by the end of the novel Sarah Beth has found her courage to deal with what life throws at her. Much of her discovery comes from observing the courage in those close to her, namely Ruby Lee, her new teacher at school, her grandmother, and her sister. In the end she learns the important lesson, said in her own words, "Courage is doing hard things when you're most afraid, like saying you're sorry or being friends with a colored girl."
What makes Ruby Lee & Me so special is that it not only could be used to introduce someone to the feelings that surrounded integration with a firsthand and personal account, but would be perfect for someone going through a difficult situation, whether it be divorce of parents, bullying, loss of a family member, etc. The lessons taught and learned throughout this novel are life lessons that apply through all ages and circumstances and are taught in such a subtle way and through such likable characters that seem quite real, which makes it easy to see how this novel would have universal appeal.
Copy provided by publisher was an advanced reader's copy
Content Analysis:
Profanity/Language: 2 religious exclamations (said in a respectful and not derogatory way). Note: The terms Negro and Colored are used to name those of African American decent as was common in the time period this book takes place.
Violence/Gore: Character is hit by a car and injured--no description of event or injuries; secondhand account of a fight that is said to have resulted in some bloody noses; character's car is vandalized; character injures leg accidentally, which results in a bloody injury (described) requiring medical attention.
Sex/Nudity: Boy puts his arm around a girl in order to help her do something but to also show his interest in her.
Mature Subject Matter:
Mention of Vietnam War, integration of the schools, racism, death of parents, divorce.
Alcohol / Drug Use:
None
Reviewed By Sally