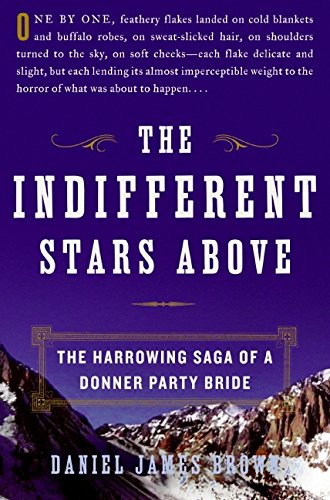 Publisher's Note:
Reminiscent of Into Thin Air, Miracle in the Andes, and the works of Tim O'Brien (The Things They Carried, Going After Cacciato) and Douglas Brinkley (The Wilderness Warrior, The Great Deluge), The Indifferent Stars Above by Daniel James Brown (Under a Flaming Sky) reveals the tragic story of the doomed Donner party, as seen through the prism of one young woman who survived.
The Indifferent Stars Above
by Daniel James Brown
Overall Review:
The Indifferent Stars Above by Daniel James Brown is a non-fiction account of the well-known Donner Party. The book is written in narrative form and provides a great deal of historical background to help readers better understand the time period and the practices of those who lived in it. Much of the text is really a glimpse into life in the mid-1800s. The title of the book is based on a poem and is a really great choice.
Brown selects a particular person who was a member of the ill-fated Donner party and does his best to tell her story as accurately as he can, but in truth the author tells everyone's story. This can be a bit distracting as there are 87 people in the party. There are obviously portions of the tale which are not known and Brown is open about parts where he is speculating and parts where he has documentation.
The entire concept of cannibalism is a tough subject which the author tackles gracefully with honesty and compassion. He also delves into possible psychological explanations for the choices of the settlers. Brown does not excuse or justify their actions, but rather provides insights as to what might have driven the pioneers to such extremes.
The pages of the book recount a story well over 150 years old, but the author draws parallels to our own society and causes readers to really think about the incredible adversity faced by early settlers. In several cases, the author goes off on tangents for a bit and these are distracting from the story of the people. Especially when you find yourself reading about China and modern funeral practices. Perhaps these should be appendixes rather than part of the main text.
The emotional and personal touches added by Daniel James Brown really draw readers into the story and keep them interested in what happened to the characters. Overall a nicely written biographical sketch which give readers a great deal to think about and certainly causes one to appreciate our modern conveniences.
Content Analysis:
Profanity/Language: 1 mild obscenity; 1 scatological term.
Violence/Gore: Person finds lots of bones with evidence that some were sawed or hacked; reference to people massacred during war and shot with cannons and small guns; a character wants to hang or stone an individual; animal's feet are cut and bloody; report of people being chopped up with axes, speared and scalped by Native Americans; report of men stoned, jaw yanked from face, skin shaved and stuffed down throat; mention of people who were shot and killed; report of children drowning, bitten by rattlesnakes, struck by lightning, trampled by animals, injured by huge hailstones and accidentally shot; report of pets being killed for food; child breaks leg and bone is protruding through skin; characters fight and one stabs and kills the other; several reports of people murdering others; animal is killed and people slit its throat and drink spurting blood; many mentions of people butchering dead humans and cooking the entrails; report of person starving child to death then eating him; person drug behind a horse, throat slit and peppered with arrows; report of man hung; mention of an abusive spouse; mention of suicide; many mentions of humans consuming human flesh.
Sex/Nudity: Report of men lusting after women; report of people making love; report of women's clothing falling off and exposing nakedness and another of worn clothing revealing sensitive areas; native strips a captive naked; reference to women's breasts; mature discussion of sexual practices of the mid-1800s - including contraception and abortion (3 pages); indication that men are bare chested; mention of castration.
Mature Subject Matter:
Cannibalism, murder, post-traumatic stress disorder, death of loved ones due to illness, hypothermia, murder, starvation.
Alcohol / Drug Use:
Characters smoke pipes and chew tobacco; adults consume brandy, wine and whiskey; a person is referred to as a drunken sot.
Reviewed By Susan