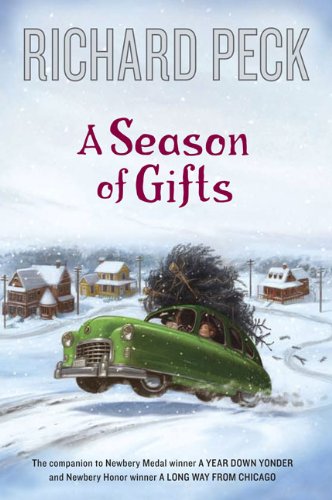 Publisher's Note:
One of children's literature's most memorable characters returns in this Christmastime companion to the Newbery Medal-winning A Year Down Yonder and Newbery Honor-winning A Long Way from Chicago.

The eccentric, larger-than-life Grandma Dowdel is back in this heart-warming tale. Set 20 years after the events of A Year Down Yonder, it is now 1958 and a new family has moved in next door: a Methodist minister and his wife and kids. Soon Grandma Dowdel will work her particular brand of charm on all of them: ten-year-old Bob Barnhart, who is shy on courage in a town full of bullies; his two fascinating sisters; and even his parents, who are amazed to discover that the last house in town might also be the most vital.
As Christmas rolls around, the Barnhart family realizes that they've found a true home, and a neighbor who gives gifts that will last a lifetime.

"Pitch-perfect prose, laced with humor and poignancy, strong characterization and a clear development of the theme of gifts one person can offer make this one of Peck's best novels yet—and that's saying something."—Kirkus (starred review)

"The type of down-home humor and vibrant characterizations Peck fans have come to adore re-emerge in full."—Publishers Weekly (starred review)

"With a storyteller's sure tone, Peck has once again created a whole world in one small Illinois town, a place where the folksy wisdom and generosity of one gruff old woman can change lives."—School Library Journal (starred review)

Publishers Weekly Best Books of the Year
Kirkus Reviews Best Books of the Year
Booklist Editors' Choice
A Season of Gifts
by Richard Peck
Overall Review:
Author Richard Peck has an amazing talent for writing historical fiction novels that really take the reader back to mid-century small-town America. His characters, descriptions, and dialogue are always spot-on and engross the reader with what it would have been like to be there and living in that time period. The novel, A Season of Gifts, is mainly about Mrs. Dowdel as seen through the eyes of Bob, her new young neighbor and the son of the new preacher in town. Mrs. Dowdel is more than the eccentric neighbor she first appears to be and throughout the novel, which covers only about 5 months, Bob discovers her big heart, her tenacity, and the fact that she really is the glue that holds this small town together.
A Season of Gifts appears to be a book about Christmas time, as the cover depicts a car with an evergreen tied to the top, but it is really about giving throughout the whole year. Mrs. Dowdel exemplifies one who gives, not because it is expected on a certain day, but because it is a way of life. However, the lesson that can be learned from her is that it doesn't have to be in big or grand ways, rather it is better done silently from the sidelines. The final paragraph sums her up well, "She was no church woman, and she didn't neighbor, and Christmas was just another day to her. But she didn't wait for Christmas to give out her gifts. She gave too many. They wouldn't have fit under the tree, not even the tallest blue spruce from the Dempsy's backyard."
While the focus of the book is about giving as a way of life, it is far from being sappy or overly emotional. You will find yourself laughing throughout this book, as the characters, especially Mrs. Dowdel are so comical and eccentric. Yes, she gives and always gives what someone needs, but it is usually done in a roundabout way, or in such a way that has the reader in stitches from laughing at her shenanigans or at her off-the-wall solutions to problems that arise in the community. A Season of Gifts is a fun, light-hearted read that will have the reader laughing (the name of the 'sorority for example is Iota Nu Beta, to give you a taste of Peck's wit), but at the same time seeing the example of truly giving to those around you as well as doing what is right even if it does make you eccentric. The best part of this is that it really is a companion novel to two other works that include Mrs. Dowdel as the main character. If you like this novel, you might want to also check out Richard Peck's novels A Long Way From Chicago and A Year Down Yonder (Newberry winner), as Mrs. Dowdel will have you laughing in those as well, along with learning more about what it truly means to give, even when you have next to nothing yourself.
Content Analysis:
Profanity/Language: None
Violence/Gore: Boys bully and force another boy to take off his clothes to go skinny dipping with them while they tie his hands; boys tie up another boy and lock him in an outhouse; secondhand account of characters vandalizing church building; a character was trespassing and gets foot caught in an animal trap; character fires gun in air to warn trespassers; secondhand account of a character getting hit for trying to take back his lunch after a bully stole it; character threatens to beat up another; character crashes car into the front room of someone's house and passenger sustains injuries.
Sex/Nudity: Boys strip down to go skinny dipping-implied they are naked, but there is no description, non-sexual; implication made that the only reason a couple is marrying is because the girl is pregnant but no details are given.
Mature Subject Matter:
Bullying, teen pregnancy, youth delinquency.
Alcohol / Drug Use:
Young man said to have cigarettes; young man crashes car because he is drunk; underage character is said to be drunk.
Reviewed By Sally