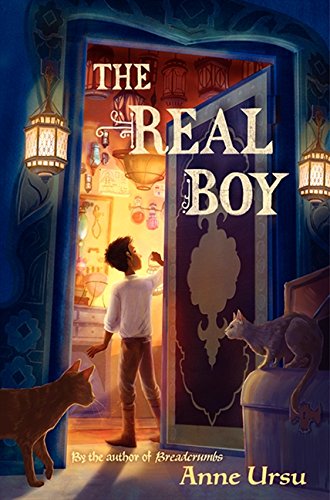 Publisher's Note:
National Book Award Longlist
2014 Bank Street Children's Book Committee Best Book of the Year
"Beautifully written and elegantly structured, this fantasy is as real as it gets."—Franny Billingsley, author of Chime
The Real Boy, Anne Ursu's follow-up to her widely acclaimed and beloved middle grade fantasy Breadcrumbs, is a spellbinding tale of the power we all wield, great and small.
On an island on the edge of an immense sea there is a city, a forest, and a boy named Oscar. Oscar is a shop boy for the most powerful magician in the village, and spends his days in a small room in the dark cellar of his master's shop grinding herbs and dreaming of the wizards who once lived on the island generations ago. Oscar's world is small, but he likes it that way. The real world is vast, strange, and unpredictable. And Oscar does not quite fit in it.
But now that world is changing. Children in the city are falling ill, and something sinister lurks in the forest. Oscar has long been content to stay in his small room in the cellar, comforted in the knowledge that the magic that flows from the forest will keep his island safe. Now, even magic may not be enough to save it.
The Real Boy
by Anne Ursu
Overall Review:
Even though both of Anne Ursu's books would probably be considered grade-school books, I have been captivated by both. At first I was a little skeptical of The Real Boy because it sounded a little too juvenile to me. To my pleasant surprise, it reminded me a lot of the Septimus Heap books by Angie Sage, a series I read several years ago that entertained me enormously.
Magic was something that was taboo when I was growing up. If I wanted to read a book containing any kind of sorcery or spells, I knew I would have to deceive my parents in order to finish the whole story. Now I am free to read what I like, and not many books contain magic, but some do. This is one of them. It is fantastical, but it also has lots of real life in it. It is probably set in the past, as the characters never mentioned any sort of modern technology, but maybe the characters lived in a different world altogether.
Right away, I fell for Oscar, the young protagonist. He is so awkward and sensitive; how could a person not pity him? But despite his social awkwardness, he has a spark of intelligence in him off and on. He was so sad, and yet people seemed drawn to him. You never know when the underdog will turn out to be a hero. This book is full of hope, spirit, and a sense of magic that will enchant children as well as adults. It would make for a wonderful read-aloud.
Content Analysis:
Profanity/Language: None

Violence/Gore: A pet is injured in a brief encounter; 2 characters are mentioned to have been killed, but no description is given of how; a building is mentioned to have been destroyed by a monster; sick children are mentioned to have died after being ill for some time; a "master" is declared to be dead; a shop is destroyed by a "faceless monster"; a monster attacks a group of people and two are injured; a huge monster chases a character into a body of water in a scary scene.
Sex/Nudity: None

Mature Subject Matter:
Magic (spells, tinctures, potions), death, orphans, plague and sickness.
Alcohol / Drug Use:
None
Reviewed By Lydia