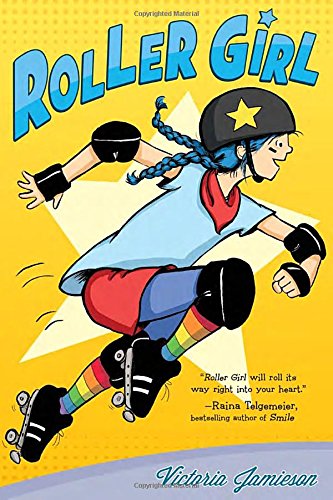 Publisher's Note:
A perfect holiday gift for 10-year-old girls and fans of Raina Telgemeier's Smile! Roller Girl is a heartwarming graphic novel about friendship and surviving junior high through the power of roller derby.

For most of her twelve years, Astrid has done everything with her best friend Nicole. But after Astrid falls in love with roller derby and signs up for derby camp, Nicole decides to go to dance camp instead. And so begins the most difficult summer of Astrid's life as she struggles to keep up with the older girls at camp, hang on to the friend she feels slipping away, and cautiously embark on a new friendship. As the end of summer nears and her first roller derby bout (and junior high!) draws closer, Astrid realizes that maybe she is strong enough to handle the bout, a lost friendship, and middle school… in short, strong enough to be a roller girl.

In her graphic novel debut, real-life derby girl Victoria Jamieson has created an inspiring coming-of-age story about friendship, perseverence, and girl power.
Roller Girl
by Victoria Jamieson
Overall Review:
I adored this book! Why did I not read it earlier? Although I am not normally a graphic novel gal, this one caught my heart hook, line, and sinker. The narrative and graphics are so engaging, so seamless, so perfect--that I forgot I was reading a graphic novel. Author Victoria Jamieson has created a new fan.
It is unexpected that a graphic novel that focuses on women's roller hockey (Yes, you read that correctly.) would have so much substance and texture. There is a lot of material here: changes, friendship, determination, relationships, girl power. It is also appreciated that the author doesn't come up with cliche solutions to protagonist Astrid's problems. Astrid struggles and stumbles; she really has to work and has to invest herself.
The artwork is full color and pops right off the page. An extra bonus is the reader can learn about this mysterious phenomenon--roller hockey. This is a book with a wide age range appeal, as Astrid is transitioning from elementary school to junior high. Oh, just read it!
Content Analysis:
Profanity/Language: 1 religious exclamation; 2 anatomical terms.
Violence/Gore: Minor injuries received from roller derby skating; images of roller derby blocking and hitting; character imagines "hitting" (roller derby style) someone she doesn't like; character throws a soda at other characters; character receives minor injury during game play.
Sex/Nudity: Girls talk about boys and hope they'll kiss them; character refers to a "girlfriend" to insult a female character (they are not "girlfriends" and it is just said to upset someone).
Mature Subject Matter:
Lying/misleading a parent, personal crisis, bullying.
Alcohol / Drug Use:
Passing comment by character asking why everyone thinks she is doing drugs (she is not).
Reviewed By Cindy