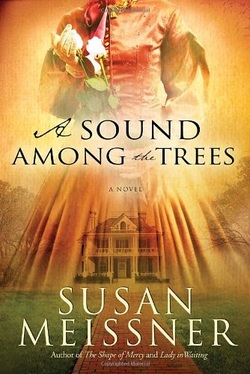 Publisher's Note:
As a young bride, Susannah Page was rumored to be a Civil War spy for the North, a traitor to her Virginian roots. Her great-granddaughter Adelaide, the current matriarch of Holly Oak, doesn't believe that Susannah's ghost haunts the antebellum mansion looking for a pardon, but rather the house itself bears a grudge toward its tragic past.

When Marielle Bishop marries into the family and is transplanted from the arid west to her husband's home, it isn't long before she is led to believe that the house she just settled into brings misfortune to the women who live there.

With Adelaide's richly peppered superstitions and deep family roots at stake, Marielle must sort out the truth about Susannah Page and Holly Oak— and make peace with the sacrifices she has made for love.
This book was sent to Compass Book Ratings for review by Waterbrook Press
A Sound Among the Trees
by Susan Meissner
Overall Review:
It is so difficult to begin new life with someone. If you add to that that the someone you just married is a widower with children, then it gets even more complicated. To add to that mix, you'll be living in the house where the new husband's first wife grew up…and with her grandmother who raised her! AND, there seems to be something wrong with the house itself! Does the house really bear a grudge against the family? Is it haunted? Or is there something else going on? It is most definitely time to find out and to fix it! These families need to move on!

While the 'contemporary' section was good (the story was interesting and the characters fairly engaging) the historical section (written entirely in letter form) was FANTASTIC!! Once again, Ms. Meissner proves her prowess at historical fiction! The characters were marvelous, the descriptions and details were perfect…I loved it! It amazed me how both sections were completely different! There was a totally different feel between the family living in the 'present', and the people during the Civil War time period. The way she portrays the hardships of the war, of helping people, and the acts of unselfishness and love, were just beautiful! If you are an historical fiction buff, or enjoy reading about the U.S. Civil War (with, of course, a little romance thrown in for good measure), then A Sound Among the Trees could be your cup of tea!
Content Analysis:
The sexual content is mild. There is one mention of a newly married couple needing privacy (more so than being in the room next to another family member), and one instance where a character mentions that after sex with her new husband, she wonders what he is thinking.
Mature Subject Matter:
The Mature Themes are mostly all moderate. There is the hardship of meshing two separate families together (with new marriages, etc.), loss of family members (death and leaving), supernatural occurrences and beliefs (there is a spiritual 'medium' involved), superstition, paranoia, secrets, mental illness, and war. Other themes also include forgiveness, resilience, and courage.
Alcohol / Drug Use:
***
Reviewed By Emily