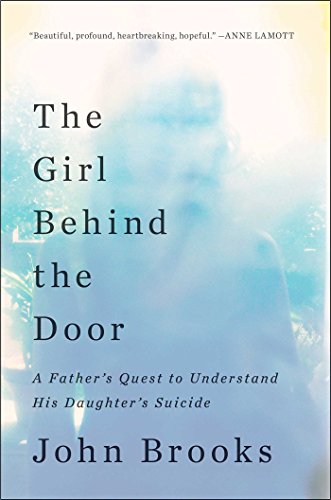 Publisher's Note:
An award-winning, candid, and compelling story of an adoptive father's search for the truth about his teenage daughter's suicide: "Rarely have the subjects of suicide, adoption, adolescence, and parenting been explored so openly and honestly" (John Bateson, Former Executive Director, Contra Costa Crisis Center, and author of The Final Leap: Suicide on the Golden Gate Bridge).

Early one Tuesday morning John Brooks went to his teenage daughter's room to make sure she was getting up for school and found her room dark and "neater than usual." Casey was gone but he found a note: The car is parked at the Golden Gate Bridge. I'm sorry.

Several hours later a security video was found that showed Casey stepping off the bridge.

Brooks spent months after Casey's suicide trying to understand what led his seventeen-year-old daughter to take her life. He examines Casey's journey from her abandonment at birth in Poland, to the orphanage where she lived for the first fourteen months of her life, to her adoption and life with John and his wife Erika in Northern California. He reads. He talks to Casey's friends, teachers, doctors, therapists, and other parents. He consults adoption experts, researchers, clinicians, attachment therapists, and social workers.

In The Girl Behind the Door, Brooks shares what he learned and asks "What did everyone miss? What could have been done differently?" He'd come to realize that Casey might have been helped if someone had recognized that she'd likely suffered an attachment disorder from her infancy—an affliction common among children who've been orphaned, neglected, and abused. This emotional deprivation in early childhood, from the lack of a secure attachment to a primary caregiver, can lead to a wide range of serious behavioral issues later in life.

John's hope is that Casey's story, and what he discovered since her death, will help others. This important book is a wakeup call that parents, mental health professionals, and teens should read.
The Girl Behind the Door: A Father's Quest to Understand His Daughter's Suicide
by John Brooks
Overall Review:
This book is not for the faint of heart. I knew that going in, so I was prepared, but for anyone who doesn't fully know what this book is about, be forewarned. That is not to say you shouldn't read it, just make sure you are up to it beforehand. It looks at some very deep issues, and although I am fascinated by the subjects it probed, I'm not sure it is everyone's cup of tea.
I loved this book. I was so touched by John Brooks honesty and transparency. He and his wife made the decision to adopt a child, and then they lost their child. That isn't an easy prospect for anyone, and although Mr. Brooks never claims that it is, he must have a heart for helping others, because the strength it must have taken to write this book is unfathomable to me. The details he put into it and the memories that must have been dug up make my heart ache. The teenage girl he describes as his daughter was a pain at times, but no matter how your child acts, you still love them tremendously. This book is an act of that love.
If you, or someone you know has been blindsided by a suicide, then this book is for them. If you have struggled with suicidal thoughts, then this book is for you. I have been close to suicide before, and I could really relate to a lot of things that are written about in this book. It is also a wonderful book to reference if you have adopted, or are considering adopting a child. I had no idea what some adopted children deal with and how they may cope with it.
Review of an Advance Reader Copy
Content Analysis:
Profanity/Language: 6 religious exclamations; 10 mild obscenities; 9 scatological words; 5 F-Word derivatives.
Violence/Gore: A minor's friend is mentioned to step off a bridge, killing themself; a fight between parents and a child is detailed, verbal threats are made and the minor gets physical; a minor violently hits a door; a suicide is mentioned to occur and a brief description of the method used is given; a body of a missing young adult is looked for in the ocean; a minor is suspected to self-harm; mother mentioned to die from heart problems; stillborn twin mentioned.
Sex/Nudity: Sexual activity is questioned.
Mature Subject Matter:
Suicide, adoption, abandonment, teen drug use, grief. anxiety, depression, loss of a loved one, self-harm mentioned.
Alcohol / Drug Use:
A teen's room is searched and a vodka bottle is found, along with a hash pipe and some "grass"; an adult's stash of weed is found; ecstasy is found in prescription pill bottles; drugs are suspected to have played a part in a teen suicide; teen drug use is mentioned to occur; a minor is seen smoking a cigarette, this is mentioned a few times; substance abuse is referred to.
Reviewed By Lydia