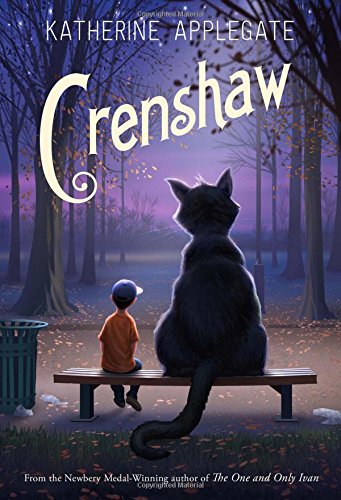 Publisher's Note:
In her first novel since The One and Only Ivan, winner of the Newbery Medal, Katherine Applegate delivers an unforgettable and magical story about family, friendship, and resilience.
Jackson and his family have fallen on hard times. There's no more money for rent. And not much for food, either. His parents, his little sister, and their dog may have to live in their minivan. Again.
Crenshaw is a cat. He's large, he's outspoken, and he's imaginary. He has come back into Jackson's life to help him. But is an imaginary friend enough to save this family from losing everything?
Beloved author Katherine Applegate proves in unexpected ways that friends matter, whether real or imaginary.
Crenshaw
by Katherine Applegate
Overall Review:
Contrary to the impression given by the title and cover art, Crenshaw is not a fantasy novel about a cat. It really has very little to do with the character, Crenshaw, and everything to do the protagonist, Jackson, and his quite real, contemporary life. This novel focuses on the harsh realities of living on the economic edge and the stress it puts on children. Crenshaw is a way to cope with that harshness--both for Jackson and for the reader. Crenshaw makes the tough topics accessible to its young, target audience. Most middle grade readers don't naturally gravitate towards these books, but they are important for developing sympathy and broadening our view of the world. This book would be excellent for guided discussions--either with a parent or a teacher. The writing is solid, and the characters have just the right amount of quirkiness without slipping into the unbelievable.
For a list of other middle grade titles that look at real-life, tough situations for kids visit our post Best Middle Grade Books About Kids with Challenges. For an absolutely brilliant book about imaginary friends that is fantasy, I suggest The Imaginary, which was published this spring.
Review of the audio version of the book. (Note: The reader was neither amazing nor annoying.)
Content Analysis:
Profanity/Language: None
Violence/Gore: Report of an animal getting sick; girl character punches boy character playfully.
Sex/Nudity: None
Mature Subject Matter:
Poverty, homelessness, economic distress, lying, shoplifting, personal crisis.
Alcohol / Drug Use:
None
Reviewed By Cindy